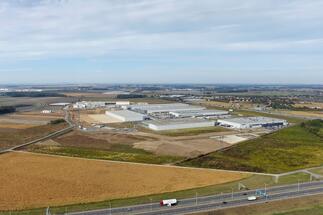 9,000 square meters of the construction is being developed for NEONET, a nationwide chain of showrooms selling electronic equipment, computer accessories and mobile phones, as well as household appliances. Thanks to its expanded lease, NEONET will now occupy a total of nearly 27,000 square meters of warehouse space at the park.
The facility is being fitted with additional lighting in the loading dock area and LED lightning throughout the building. Like all Prologis warehouses in Poland, the newly constructed buildings will feature a smart metering system, which enables customers to remotely view and monitor utility consumption in the facilities.
"Six years of cooperation with Prologis have proven that there is more to warehouses than just their location and quality. A shared understanding of needs and striving to grow together are equally important. The technological solutions implemented at Prologis Park Wrocław V systematically improve the quality of our operations. It was an obvious choice for us to renew the lease and entrust Prologis to construct another facility," – said Tomasz Okoński - Logistics and Customer Service Director at NEONET.
A further 7,500 square meters is being delivered to a new customer, UK-based company Bowman Ingredients, a leading global supplier of batters and marinades for frozen and chilled meats, fish, seafood and vegetables. This will be Bowman Ingredients' first European warehouse and production line that is located outside the UK. As such, the new space will be divided into two sections: one adapted for storage and the other for production.
The design includes a concrete mezzanine (1,000 square meters) with additional service lifts for transporting semi-finished products. The roof structure was purposefully altered to reach a height of 11.2 meters and the specially designed curvatures prevents dust from settling on wall surfaces. External foundations will accommodate five silos, with a wide unloading area and a truck scale out front. The interior will feature lab facilities, quality control rooms, technical rooms, engineering rooms and temporary work areas. The entire production area will be ventilated and well-lit, benefiting from both natural light and artificial lighting provided by LED fixtures. The facility's design also incorporates a floor for office and social space, which will be fitted with air-conditioning and a number of eco-friendly solutions, such as additional skylights, a zone-based lighting system and motion sensors controlling LED fixtures.
"When we were considering establishing a factory and warehouse in Poland, we were certain of one thing: we wanted to work with a reliable partner who perfectly understands the nature of the local market and has the knowledge and experience to deliver a state-of-the-art production and storage facility. We believed that was Prologis and we were correct," said Rory Bowman, CEO at Bowman Ingredients.
"New construction and leases at Prologis Park Wrocław V from both new and existing customers continues to show the high interest in this location. It turns out that a single modern storage, production and office facility is capable of successfully accommodating two customers with vastly different needs and expectations. Both spaces have been built to suit the exact requirements and activity profiles of both companies, and all of it under one roof." says Magdalena Kostjan, leasing manager at Prologis Poland.
Having a flexible, partnership-oriented attitude and maintaining an open dialogue allows Prologis to successfully complete innovative projects for our customers. Once again, at Prologis Park Wrocław V we are showing how our customers can be ahead of what's next.
Prologis