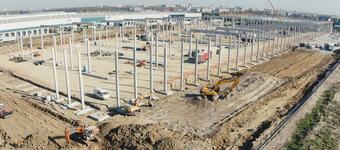 Prologis' IBITM Activity Index was high across our 29 U.S. markets in Q1 2022, at 65 (> 50 indicates growth). This activity reflects a stronger flow of goods and the "catch-up" race by logistics users to secure limited space.
Select IBI takeaways:
1. Competition for space led to record Q1 rent growth. Rents increased by 8.5 percent quarter-over-quarter.1
2. Healthy consumer spending and supply chain volatility boosted demand for logistics real estate, yet low supply reduced absorption. Logistics customers absorbed 88 million square feet (MSF) in Q1, down from about 120 MSF in the prior quarter.2, 3
3. Materials shortages are fueling this scarcity. New supply in Q1 was lower than expected, at 68 MSF. The vacancy rate fell 20 basis points from the prior quarter to a record low of 3.2 percent.
Prologis