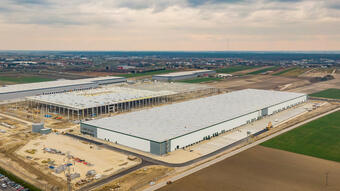 Together, the quality of the Prologis portfolio, the company's customer base and the strength of its balance sheet are expected to mitigate COVID-19 headwinds through 2020.
The impact of the pandemic will play out differently across the company's regions, including in Europe, where occupancy levels are expected to fall by 130 basis points due to changes in supply and demand dynamics. In the first quarter, the company posted higher-than-expected rental increases; however, the forecast currently is for flat rental growth for the full year.
Additional takeaways:
• Prologis customers that focus on food and beverage and other everyday consumer staples are witnessing robust growth in demand while those that provide clothing, sports items, household goods and furniture are
experiencing a decline in demand.
• Prologis expects to move forward with fully committed speculative development and previously negotiated buildto- suit (BTS) agreements. Globally, the company has 30 BTS projects under construction and all of the underlying customers have indicated their intention to move forward as planned. This includes three new BTS starts in Germany, Italy and Poland.
• The company anticipates reduced demand into the third quarter but notes that the operating environment will
begin to recover toward the end of the year.
Prologis Europe first quarter activity in brief
Prologis' European portfolio totaled 756 buildings and 18.5 million square metres, 96.0% occupied at the period end. Europe total development activity in the first quarter was 106,384 square meters, of this 84.1% was built-to-suit in key logistics markets close to consumption centres.
Central Europe (CE) key data as of March 31, 2020:
Operating Performance
• The global portfolio in the CE region totalled 4.2 million square meters (Poland, the Czech Republic, Slovakia and Hungary), including 613,800 square meters in Hungary;
• Portfolio occupancy rate remains stable at 95% – in Hungary this is set at 99.4%;
• Leasing agreements were signed for more than 380,000 square meters, which corresponds to an increase of 35% compared to the same period last year.
Investment Activities
• No investments were halted in Prologis CE;
• In Central Europe, 5 buildings totalling 160,000 square meters are currently under construction: in Poland (Prologis Park Janki, Prologis Park Ruda Śląska), in the Czech Republic (Prologis Park Prague-Uzice) and in Hungary (Prologis Park Budapest-Harbor);
• Building 3 at Prologis Park Nitra totalling 37,800 square meters was sold to the buyer who previously also acquired DC1 and DC2 at the same park.
Charity and Community Support
Prologis Foundation has allocated $5 million in monetary donations to COVID-19 relief organizations globally, with an emphasis on feeding those in need and assisting medical communities that have been impacted so drastically.
Prologis