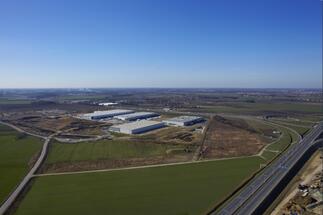 Hi Logistics Europe is an affiliated logistics company of LG Electronics and repeat customer. This new agreement increases Hi Logistics Europe's portfolio with Prologis to more than 98,500square metres in Europe.

Hi Logistics will use the new speculative facility to serve the Polish, German and Czech markets. The property will be the first of its kind in Lower Silesia to incorporate energy-efficient lighting - a solution that optimizes operating costs. In addition, the building will feature a reversed pillar layout, which excludes the first line of support structures, providing Hi Logistics with an expanded picking zone. The facility will also include concrete truck ramps and a higher number of docks with arch roof skylights.

"With this lease agreement, the 27,000-square metre facility is 75 percent eased prior to planned completion in the third quarter," said Ewa Zawadzka, vice president and head of development, Prologis Poland. "Wrocław is the best location to implement Hi Logistics' strategy of centralizing operations in the region and we are pleased to support their continued success."

Prologis Park Wroclaw V currently includes four delivered build-to-suits totalling more than90,000 square metres. Customers include Eko Holding, Neonet, Tradis, and UPM Raflatac. The park has additional development potential of 98,000 square metres. Adjacent to Wroclaw's ring road, the park is located in Nowa Wieś Wrocławska, approximately three kilometres southwest of the Wroclaw Bielany junction at the crossroads of the A4 highway (Berlin - Wrocław - Ukraine) and the S8/E67 expressway.

With its active engagement in five countries across the region (Poland, Czech Republic, Hungary, Slovakia, and Romania), Prologis is the leading provider of industrial real estate in Central & Eastern Europe with approximately 3.7 million square metres of logistics and distribution space as of 31 March2014.


Prologis