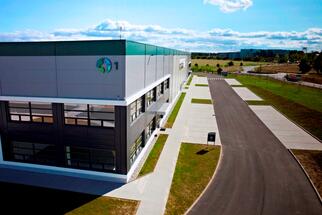 "We were particularly drawn to the location of this facility, which offers us great access to various domestic and international trade routes, supporting the rapid expansion of our business," said David Siska, CEO of Bonami. "In our three years of operation we have experienced tremendous regional success, so we very much appreciate the potential to expand within the park should we wish to do so in the future, as well as the high technical standard of the building."

The transaction was facilitated by 108 Agency.

This lease agreement, which follows an 18,000 square metre lease recently signed with a Chinese e-shop operator, means that the speculatively-built Prologis Park Prague-Airport DC1 is now fully let.

"E-commerce continues to play an increasingly important role in the overall demand for distribution space in the Czech Republic and throughout the region," said Martin Baláž, director of leasing and development, Prologis Czech Republic & Slovakia. "It is Prologis' strategy to offer readily available, flexible space to meet the demand of future and existing customers, both e-commerce and otherwise, the success of which is illustrated by DC1's full occupancy only one year after its completion."

"Besides car manufacturing and production of electronic goods, e-commerce is the industrial branch having the biggest potential to grow in the near future on the Hungarian market and regionally as well. This segment will definitely demand bigger share from the market", said Laszlo Kemenes, senior vice president and country manager of Prologis Hungary. 

Prologis Park Prague-Airport currently comprises two buildings totalling 61,300 square metres. Located just five minutes from Václav Havel Airport Prague, the park provides excellent access for national and international traffic and trade routes via the D5 highway.

Prologis is one of the leading providers of distribution facilities in the Czech Republic with more than 985,000 square metres of logistics and industrial space (as of 31 March 2016).
Red Lemon Media