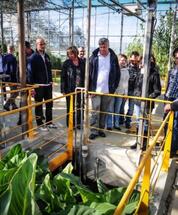 The new area includes a football field, a badminton court and a barbecue for company events and other leisure activities. Educational signs promoting Prologis' 'Green Path' Sustainability Programme encourages Prologis customers to take a more sustainable approach to waste, water, energy, procurement and transportation, with a view to reducing carbon production and operational costs.



Each customer also has a dedicated community garden and is invited to plant their own tree. Prologis will provide the sapling and gardening support.



The recreational area is located in Prologis Park Budapest-Harbor next to the sustainable wastewater treatment facility, which produces water so clean it is suitable for irrigation.



Prologis' portfolio in Hungary totals more than 490,000 square metres of industrial space and includes five parks in the Budapest region (Gyál, Harbor Park, Százhalombatta, Szigetszentmiklós, Budaörs) and one in Hegyeshalom. With a regional portfolio totalling more than 3.5 million square metres, Prologis is the leading provider of distribution facilities in Central & Eastern Europe (as of June 30, 2013).
Prologis