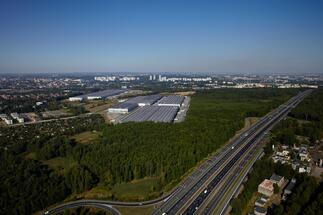 The company has been a Prologiscustomer in Poland since 2004.Currently, it leases more than 100,000 square metres of distribution space in eight of Prologis' buildings across the country.

Details of the transactions include:
•    25,000 square metres at Prologis Park Chorzow, a 235,000square metre modern distribution park located on the western outskirts of Katowice, by the A4 motorway, which links Ukraine with Germany, and 15 kilometres from the Gliwice-Sośnica Junction, where the A4 and A1 motorways, the two biggest international transport corridors in Poland, intersect;

•    15,000 square metres at Prologis Park Blonie II, a 112,000square metre distribution park located within the Błonie-Pass Industrial Zone at the E30 route (Berlin-Poznań-Warsaw-Biała Podlaska),25 kilometres west of the Warsaw city centreand 10 kilometres from Tłuste Junction.
"The great advantage of our cooperation with Prologis is the ability to agree to flexible leases,as well asa quick decision-making process thatenables us to expand efficiently as the company grows," said Łukasz Pełko, regional director, Raben Polska.
"Our long-term partnership with Raben confirms that our facilities meet the evolving requirements of leading logistics companies," said Michał Czarnecki, vice president, head of leasing, Prologis Poland. "For the building in Chorzow, for example, we are providing additional featuresthat tailor to the demands of our customer, such as an allowable fire load of more than 4,000 mega joules per square metre."
Prologis is the leading provider of distribution facilities in Poland with more than 2.2 million square metres of logistics and industrial space (as of March 31, 2015).
Prologis