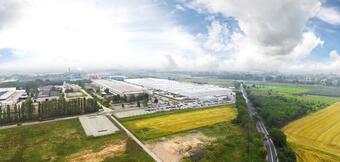 The acquired portfolio totalling 94,200 square metres is 100 percent leased with a weighted average term to next break of 6 years. It comprises:

• A 56,700 square metre building in Gliwice, Poland, renamed Prologis Park Gliwice, situated in Upper Silesia. The facility, occupied by Tesco, is located in the centre of the Silesian agglomeration and one of Poland's core markets – next to the crossroads of two trans-European networks the A1 and A4; and

• Prologis Park Budapest-Ullo, the 37,500 square metre Auchan-occupied building in Budapest, Hungary, located in the vicinity of the National Airport and the Budapest ring road M0, 30 kilometres from Budapest city centre.
"These two properties leased to premium customers are exciting additions to the Prologis portfolio in Poland and Hungary. Both are in key locations on major commercial routes that are growing in importance due to an increase in intra-regional trade in Central & Eastern Europe", said Ben Bannatyne, regional head for Prologis Central & Eastern Europe.

Colliers International real estate agency represented the seller during this transaction.

PEPF II, which was established in August 2007, is one of four European co-investment vehicles managed by Prologis. At 31 March 2014, the Fund owned 253 properties, for a total of 5.9 million square metres with a net market value of €3,595.4 million.

Prologis owns and manages approximately 3.7 million square metres of logistics and distribution space in Central & Eastern Europe as of 31 March, 2014.



Prologis