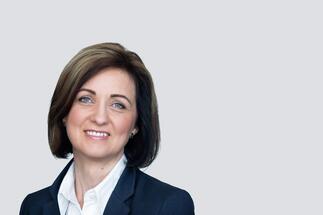 Her responsibilities include facility management (maintenance and repair), the supervision of the billing, receivable, and administration processes, and the coordination of energy tenders and capex works. She also takes part in various system improvement innovation projects.
When it comes to customers and property management, Prologis thinks in terms of relationships, not transactions. Szilvia regards property operations as a service. "A few years ago, I heard at a conference that 'maintain' is a compound word derived from Latin. The origin is more obvious in French: main = hand, tenir = hold. In Hungarian it is 'hold in your arms'," she explains. This encapsulates her attitude perfectly. "I look at property management and maintenance as holding my loved ones in my arms with care."
As a property manager at Prologis, Szilvia runs her part of the business like she owns it—because in a sense she does. "It is essential in good property management to be aware of the customers' needs, to think one step ahead, to avoid preventable problems through regular maintenance, to learn from mistakes and, when something breaks down, to make repairs as swiftly as possible so customers can continue working and using the properties undisturbed," she explains.
This often requires tidying things up, assessing, analyzing, comprehending, structuring and rationalizing in order to make the operations as efficient as possible and to create added value. "The ideal state of property management is when customers do not notice us at all because everything is functioning so smoothly," says Szilvia.
Innovation is an important focus for taking the lead and staying ahead of what's next—and property management is no exception. Prologis is the leader in the logistics real estate market because of, among other things, the managers and professionals working there and the constant innovations in the fields of, for example, data processing, digitization and automation. "Several of our system development projects are running in parallel, which involves many extra tasks in addition to day-to-day management in the short term. But in the medium and long term, this will significantly simplify the job of operation, making it more transparent and ultimately serving customers." And it is this that motivates Szilvia.
"Prologis' environmental awareness, regulated work processes and continual improvement as well as ethical operation enables our property management team to provide the most effective solutions to our customers," she adds.
Prologis