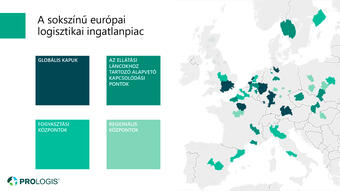 Another key takeaway is that diversity - or variation - is a determining characteristic for the logistics real estate market in Europe.
So how do we make sense of variation? How can we capture the unique DNA of each market without losing sight of the bigger picture? Prologis has developed the following market classifications to better understand portfolio diversification in Europe:
- Global gateways: providing access to key economic center
- Critical supply chain links: strategic logistics hubs that have a substantial catchment area and access to a significant population base
- Consumption centers: focused on local consumption
- Regional hubs: core markets with a regional focus
All these markets benefit from structural tailwinds, such as e-commerce and urbanization. Let's take a closer look at the four different market types:
Global Gateways
Global gateways provide access to key economic centers. They are Europe's most liquid logistics real estate markets, such as Paris, London and Frankfurt. The average GDP of these markets is significantly higher than the overall market average. Global gateways are characterized by scarcity of land and strong structural demand simultaneously.
Demand in global gateways is diverse. Take West London, for example, where demand is driven by airline service firms as a result of proximity to Heathrow Airport, e-commerce distributors because of proximity to a densely populated and affluent part of London, and data center providers due to the area's good broadband access.
Critical Supply Chain Links
Logistics corridors, or critical supply chain links, are an integral part of the pan-European supply chain network. These markets have high-quality infrastructure that offers access to large catchment areas and robust economic opportunities. In these markets, high levels of logistics activity drive demand, as illustrated by the loading of more road freight compared to other markets, for example.
Southern Netherlands is an example of critical supply chain link. It is an excellent entry point to the European Union characterized by both high-quality, multimodal logistics infrastructure and a highly efficient and skilled workforce. Most notably, the market is connected to 300 million consumers within a 500-kilometer radius, making it a hotspot for demand.
Consumption Centers
Consumption centers are markets where economies are driven mainly by consumption. Examples include the UK's Midlands, Madrid and Warsaw. While consumption is a large part of GDP everywhere, in these markets it plays an even bigger role. These consumer-focused markets are usually characterized by a stronger presence of retailers within the local logistics market.
Being closer to metropolitan areas brings its own set of challenges, though, such as finding suitable land for logistics real estate. Infill development is a way to balance the customer's need to move closer to consumers with land scarcity in the market. In urban areas, waves of industrial and residential development, redevelopment and evolution may leave some land or buildings either unused or underused. Some are closed factories; others are government buildings that are no longer used or needed. Infill development puts such properties into productive use through redevelopment, rehabilitation or new construction.
Regional Hubs
These hubs are located in a regional central location and serve a large number of smaller markets. Regional hubs include Budapest, Poznan and Central Germany, which offer interesting growth potential. These markets tend to recover somewhat slower than the large economic metropolises, but they show more growth later in the cycle, which is reflected in the Oxford Economics outlook on GDP growth from 2017 to 2027: 25 percent for regional hubs versus just over 17 percent in the market average.
Risk Diversification
Markets rarely align perfectly with a single classification type. As an example, the Southern Netherlands is not only a critical supply chain link, but also a consumption center. Many logistics operators active in that region are focused on local consumption. Market classifications are based on structural characteristics and are indicative of longer-term trends specific to those areas. Classifications, therefore, can serve as guidance for diversifying risk in a real estate investment portfolio.
Join the discussion at EXPO REAL, Europe's largest real estate and investment trade fair, where Sosef will host a panel discussion with Sophie Van Oosterom (CBRE GI), Alexandra Krystalogianni (Allianz), Nick Preston (Tritax EuroBox), Tom Waite (JLL) and Ben Bannatyne (Prologis) to further discuss what this means for logistics real estate professionals.
Prologis