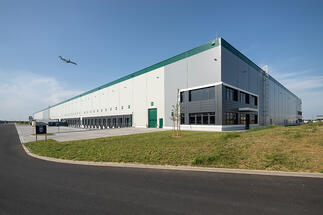 It is quite an achievement to have two out of the three facilities in all of Continental Europe that hold this 'Outstanding' rating from BREEAM – the world's longest established method of assessing the sustainability of buildings – but it is not necessarily a surprise. Prologis has taken the lead in showing the world how sustainability can be a competitive advantage, as increasing numbers of today's customers seek sustainable and resilient buildings that help to cut costs, keep operations running smoothly, and attract and retain skilled workers.
Prologis achieved an overall BREEAM score of 88.3% for the facility at Prologis Park Prague-Airport, where 27,500 square meters out of the total 37,800 square meters were delivered as build-to suit for EYELEVEL, with the rest built as speculative.
The development is a study in what can be achieved when experts at all levels work together to meet the sustainability goals of creating a building that is energy efficient, has low operating costs and provides a healthy indoor environment for its occupants. By using modern sanitation appliances and a rainwater recovery system for flushing the WC, daily consumption of drinking water was reduced by 83.5% and primary energy consumption by 54%. All energy output is continuously controlled by the most modern measuring systems, while the water supply is equipped with leak-detection systems.
Energy modelling supported all the design decisions, while a thermal comfort study optimized the wellbeing of the building's occupants, who enjoy plenty of natural light, fresh air delivered via openable windows, low noise levels and low content of pollutants from the installed materials. Building materials and interior installations were chosen on the basis of life-cycle cost analysis, which takes into account the purchase costs of the materials as well as the operational costs for the entire lifetime of the materials including the cost of their disposal. Prologis uses materials that are recycled or contain a high amount of recycled materials whenever it can during the construction process.
"With this facility, Prologis now has 14 buildings in the Czech Republic accredited by BREEAM: two rated 'Outstanding', two rated 'Excellent', two rated 'Very Good' and eight rated 'Good' – evidence of how important sustainability is to us. By sticking to our overall business strategy of emphasizing environmental stewardship, social responsibility and governance in everything we do, we are showing the rest of the European Continent what is possible," says David Jakes, senior project manager, Czech Republic.
Outside of the building care has been taken to use most of the external areas for planting greenery and protecting natural habitats. In this way the biodiversity and ecological value of the site has been increased significantly by nurturing native species of vegetation, herbs, grasses, shrubs and trees, while protecting local insect and bird populations.
The employees themselves are also encouraged to do their bit by using alternative modes of transport to get to and from work. There are covered cycle storage areas and comfortable facilities with lockers, showers and spacious changing rooms. A large number of the parking places are reserved for car sharing, which is facilitated by a car-pooling website available to all employees. The building is equipped with chargers for electric cars too.
Prologis