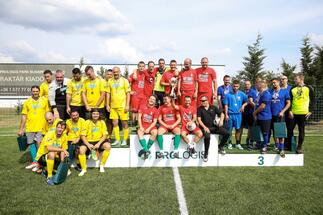 Prologis Budapest Football Games, a tournament that we launched in 2014 in order to facilitate healthy lifestyles and to provide our customers a way to promote teambuilding.
This year, the tournament took place at the five-a-side football pitch of Prologis Park Budapest-Harbor, where seven teams competed for the 'Champions of 2019' title. Besides the smooth September weather and spectacular matches, delicious snacks and drinks were laid on at the venue for the dedicated sportsmen and passionate fans. The host of the Games was popular commentator, Gábor Méhes of Sport TV, who kept up the fun and sporting spirit throughout the day.
In the end, Inter Cars Hungary emerged the winners, with Brendon coming second and Geodis claiming third place in the tournament.
"I am happy to see that since their foundation the Games have evolved into a much anticipated event. With the tournament, our aim is to encourage our customers' employees to enjoy sports and also to promote a wider sense of community in our parks," said "I László Kemenes, senior vice president and country manager of Prologis Hungary. "I would like to congratulate the Champions and all the other participating teams on their incredible performances and sportsmanship."
We are evolving beyond four walls and a roof to serve our customers and to satisfy their ever-changing needs. The relaxation zones in the grounds of Prologis Park Budapest-Harbor and Prologis Park Budapest-Gyál provide our customers space to relax and for numerous leisure-time opportunities, such as sports activities, company picnics or corporate events.
Prologis