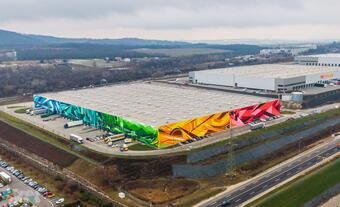 The international competition attracted 199 entries from five countries. The jury chose Viktor Dobos' work from Hungary as the winning design. The competition was organised by ARC and judged by Imre Rumi, Chief Architect of the Municipality of Biatorbágy, along with other professional partners.
CTP first launched its Art Wall initiative in the Czech Republic in 2017. the aim of the international competition was to decorate the surface area of a CTP property in Humpolec, followed by a mural in Prague, then in Plzeň, and now in Biatorbágy.
"CTP is committed to creativity, visuality and dialogue. On the facade of our BIA6 building, we wanted to provide space for creative artists to express themselves in a spectacular way. We are very happy that the Art Wall initiative could finally be implemented in Biatorbágy, Hungary, even if with a slight delay due to COVID. CTP's Hungarian home is Biatorbágy, where also our largest park is located the relationship with the city has been very good since our entry in the Hungarian market, and we wanted to give the community something that is creative fitting into the cityscape and what we can mutually be proud of.," - said Dávid Huszlicska, country head of CTP Hungary.
In Hungary, ARC assisted CTP in the implementation of the competition, and CTP ART CREW was the partner in the execution of the artwork.
"The 14-member creative team that worked on the project was made up of the best professionals in the country, the crew worked for approximately 2 months, 5476 man-hours on the monumental mural, which used 29 colours, 733 litres of paint, 25,130 meters of masking tape, and we also consumed 1344 cups of coffee", said Péter Flór, project manager of CTP ART CREW.
"We have organised several creative competitions and related events for companies and brands as communication campaigns, but we have never had a similar assignment. We are proud that the largest mural design competition in Hungary, was realised by ARC in cooperation with CTP, based on our many years of experience," - added Gábor Bakos, Managing Director of ARC Nonprofit Ltd.
CTP