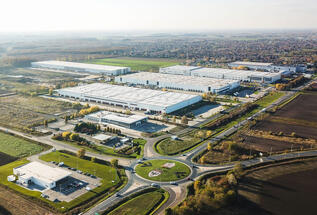 CTP raised a total of €1 billion under its €8 billion EMTN program. The issue included a €500 million five-year tranche, a €500 million ten-year tranche and a concurrent €150 million capped tender offer on the €650 million senior notes due October 2025. Total demand for the issue was around €3.5 billion and the tender offer well exceeded the targeted amount, evidencing and further supporting the solid standing that CTP holds amongst international bond investors less than one year after first entering the market.

At pricing, the five-year tranche's annual coupon was fixed at a rate of 0.625%, while the ten-year tranche annual coupon was fixed at 1.50%. The 10-year tranche marks CTP's longest tenor to date. The tender was equally well received by noteholders. It was capped at €150mln to preserve the liquidity of a benchmark size of €500 million after settlement.

Richard Wilkinson, CFO of CTP, comments: "In our third visit to the bond market in 2021, CTP was able to successfully execute another dual tranche issuance. Once more we were able to attract significant demand from both existing and new institutional investors, with over 100 investors participating. Proceeds from this issue will be used to pre-fund a significant part of the development pipeline in 2022, while the capped tender offer on the October 2025 notes allowed us to reduce our cost of debt, whilst preserving the liquidity of a benchmark size bond. We also further add data-points for our debt-yield curve, which now consists of seven different tenors with ten-year being the longest tenor."

The new debt issue achieved broad institutional distribution, selling primarily to asset managers (66% of the €1 billion issued), with the bulk of demand coming from the UK/Ireland (52%), Benelux (15%), the DACH region (14%) and France (7%). Proceeds will be used (i) to finance a concurrent €150 million capped tender offer on the senior notes due October 2025 and (ii) to substantially pre-fund the development pipeline for 2022. CTP has chosen to issue exclusively Green Bonds, following its 2019 commitment to certify its entire portfolio of logistics and industrial projects to the BREEAM Very Good standard and above. Well over half of the issuance size was again placed with typical green investors.

Jan-Evert Post, Head of Funding & Investor Relations at CTP, stated: "We are pleased with the outcome of this dual tranche bond issuance. This issue, together with our new €600 million secured funding, secures a significant part of the funding needs of our 2022 development pipeline, while extending the maturity profile of the debt with 0.4 years to 6.3 years and decreasing our average cost of debt with 3 bps to 1.19%."
The newly issued Green Bonds mature on 27 September 2026 and 27 September 2031 respectively and carry investment grade ratings from both Moody's (Baa3, with outlook stable) and S&P (BBB-, outlook stable).
CTP