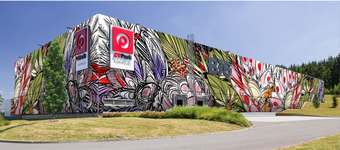 The award ceremony of the unique mural art project, which is one of a kind on the Czech cultural scene, was held in the Manes Gallery. The international CTP Art Wall competition has been attended by nearly 40 artists, illustrators and graphic designers from different European countries. Then, a total of 17 artists were selected. Their designs could be seen in the multifunctional hall during a gala evening.
In the final round before the announcement, 11 best designs were chosen. The expert jury, which included for example Remon Vos, CEO of CTP, or Ondřej Dufek, a well-known illustrator and architect, selected an absolute winner during the evening. The graphic design from TRON, who has, in addition to financial rewards from CTP received also support in implementation, portrays concentrated circles of different colours. The design will be carried out on the wall of CTPark Prague Airport. The second place belongs to artistic duo DZIA from Belgium, whose work inspired by Fauna and Flora will appear in the following months at CTPark Humpolec.
"I am really pleased that the first year of our competition was so successful. All the designs I've had a chance to see were an example of the creativity and fantasy of a variety of artists. I believe that the works of art will be positively perceived, and we will see even more talented people next year, " says Remon Vos, CTP General Manager.
The main goal of the project is to improve the public space and to "embellish" the industrial and logistics halls, not only in the Czech Republic, but in the future also in other Central and Eastern European countries where CTP operates. Winners of the first year will have available two walls of industrial CTP objects at CTPark Humpolec near the D1 motorway and at CTPark Prague Airport. Together, CTP will offer artists more than 6,500 m2 of space.
Partner of the CTP Art Wall is CBRE with the Art of Space project which focuses on industrial zones and warehouses in the Czech Republic. This project aims to inform, to educate and to offer space for sharing experience and knowledge among professionals, authorities and the general public. The CTP Art Wall competition is organized by the DRAWetc visual studio for the CTP, which is the contracting authority.
CTP