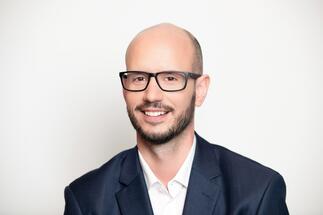 - Driving along the M0, it seems that logistics is booming as new buildings keep springing up from month to month. Are you optimistic about the future?
- I'll answer briefly and simply: definitely! This year, we have seen a lot of activity in the sector, with strong demand for quality warehouse space. As a sign of market confidence, we have launched our latest development in Szigetszentmiklós on a speculative basis. And we don't want to stop there. In line with our organic growth targets, we have several projects in the pipeline, about which further announcements can be expected over the next 12 months. So, to answer your question more fully, we are very optimistic indeed about the future.
- Even if the news about the price and availability of building materials is getting more alarming every week?
- I would note that the increasing activity of developers and associated aggressive pricing has slowed down the growth in rents registered in recent years. Increasing demand for flexibility also makes it easier for landlords to raise their prices, and increases in land prices and construction costs are bound to follow on from this. These effects need to be considered together, and their ramifications examined at project level. The increase in construction costs is not a local, Hungarian problem; it is a global one.
- What is the solution?
- Effective and precise forward planning, ensuring capacity and building up volume can protect against the problem to some extent. The Prologis Park Budapest-Sziget II project has been planned along these lines. As a general rule, we think carefully about as many aspects of our projects as possible to make sure our commitments to our partners can be met in their entirety.
- Can you give us an example?
- Right now, the handover date for the Prologis Park Budapest-Sziget II complex is still the same as the date set when the project was first launched. Besides efficient forward planning, this reflects on the fantastic efforts of our technical colleagues and the general contractor working with us, whom I would like to thank. We share the belief that solid partnerships are needed to effectively deal with the current challenges facing the sector.
- The sector in general also faces labour shortages, which means tenants are also affected. Do you have any suggestions on tackling this issue?
- As a landlord, developer/owner and asset developer, we can support our customers' businesses by using our own assets to make their work more efficient. That's what the Prologis PARKlife™ initiative is all about – its main objective is to attract and retain a high-quality workforce, as well as to aid recruitment. I'll give you an example. At Prologis Park Budapest- Harbor, we organize highly successful football tournaments for our partners' employees, which, the sporting entertainment aside, are great opportunities for team building and networking. Warehouses today cannot be simply a building with access to road infrastructure; they must also be employee-friendly facilities. Together with our partners, we are working on developing newer opportunities putting even greater emphasis on employee well-being and community building. Our main priority is providing services that meet the needs of our partners, which vary from park to park, some focusing more on active recreation, and others on leisure activities.
- Flexibility will be one of the keywords for 2022. What does this mean from the Prologis perspective?
- Needs have changed, but I would point out that it is important to consider each case separately, as expected services can vary from segment to segment. For third-party logistics providers flexibility is highly important, as the Covid period has affected their business activities significantly, and the degree of commitment – for example in terms of duration – is a key issue for them. For manufacturing companies, energy is one of the most important points - or more precisely, the availability of energy, the charges payable, the option of increasing utility capacity and the relative ease of implementing the technology they use. For example, when a crane or an assembly line is installed, the industrial floor is subject to extra loads, and we have to think about this early on in the development phase. However, this is not a problem as we are able to meet extreme production requirements. The third significant group of tenants is made up of e-commerce providers, whose activities can entail numerous specific requests, such as larger parking spaces or the availability of drive-in gates. Interior height is another major consideration for these customers, as is, of course, the fact that they are operating in a rapidly changing industry where needs can completely change within six months. They expect us to help them serve their customers even more effectively, enabling flexibility when responding to the rapidly changing market they serve: an attribute which is the basis of their business model.
- That all sounds really good, but how can you, as a landlord, prepare for this? It seems to me that e-commerce companies, for example, don't know themselves where the market is going and to what extent it is changing.
- Prologis' global know-how and knowledge base spans 19 countries on four continents, where we work with over 5,500 partners. They provide constant feedback on which changes need to be made to optimize their activities. We try to incorporate these into the planning process. We see and react to global logistics market trends and carry through responses resulting from them. For example, we have begun building halls with 12-meter-high ceilings, 7-ton industrial floors and advanced fire protection systems. In addition, sustainability is part of our DNA, and leading the way in this area is also very important to us.
- It seems that soon there will be logistics buildings all the way along the M0 motorway. Are there still plots available?
- This is a top-heavy Budapest-oriented market, given the capital's geographical location in the country, and obviously a large part of the demand is concentrated here. To those outside the profession it may seem that everything is slowly being built up, but there are still good locations and available plots. What has changed, in my opinion, is that these sites now require far more preparation before launch, and regulatory and infrastructure development issues can arise which in turn cause a lengthening of the preparation and development period. This is why it's important to think ahead. For the Prologis Park Budapest-Sziget II project, we have planning permission for the whole site, which means proper risk management. Overall, I can say that this region remains our top priority, but we are also actively looking for opportunities to enter new locations.
- Prologis is present at many other locations in Europe. How does the company compare to its regional competitors? How prominent a player is it in the region?
- Often, tenants are looking for a distribution base that can serve the Baltic region, as well as the markets of South-East Europe. In Central and Eastern Europe Budapest is performing well, and we have had some successes. But we also see that it is in the common interest of domestic operators to foster a market that is transparent and strong in the fundamentals of the business. Only in this way can we compete with the markets of Slovakia and Romania, for example.
- Why did you mention those two countries in particular?
- Poland can be separated from the rest of the region, because the Poles are in a different class: they have to serve an internal market of over 40 million. The Czech market also has a larger volume, not least because a secondary and even a tertiary market is flourishing there. And the proximity of the German market plays a part in the regional prominence of both these countries.
- And you? Will your business prosper according to your plans next year? And perhaps it's not too early in November to take stock of this year. How was 2021?
- With regard to this year, the stability of the portfolio is worth noting, as is our 99% occupancy rate and significant number of successful transactions. One example I would like to mention is our contract renewal for 27,000 square meters in Budaörs in the third quarter. We have launched speculative developments and have prepared other projects expected to be announced in 2022. Putting our sustainability goals into practice is underway. For instance, we are working on the conversion of the entire portfolio to LED lighting, and have also made considerable progress in the implementation of our solar panel system, which will be an investment realized in practice at new developments. Innovation will continue to be our focus along with our environmental, social and governance goals. In this spirit, we wish to do more and give a higher profile to the social aspect of Prologis: community building, by which we mean not only the community of people working in our parks, but also the residents of the communities where we are based. We want to reach and help support these people.
- Will acquisitions or your own developments be given more emphasis?
- Organic growth remains the aim. Acquisitions of income-producing properties and development activity will both be vital in 2022. Our goal is to ensure that Prologis' portfolio in Hungary continues to be stable and that it keeps creating value.
- I have heard from professional sources that the sector has lobbied for the unprecedented, strict insulation standards in Europe not to apply to warehouse buildings. Is this true?
- I welcome the fact that actors in the sector are taking meaningful steps to optimize the regulatory environment by working together in order to increase the volume of real estate development and to compete regionally. Personally, I would highlight the Round Table of Real Estate Developers and the professional work they have done, as I think they are doing a very good job representing this type of proposal to legislators and decision-makers. In this particular case, I think that a change in the current regulatory system in Hungary would not necessarily be to our advantage, because we have always developed at a high technical level. In practice, this means that we follow the international standards that are applied in Western Europe.
Raktarkereso.info