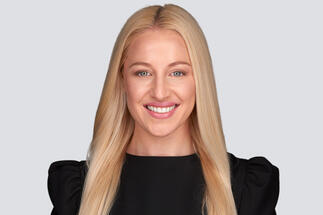 - The industrial real estate market seems to be really booming. I assume you haven't been bored either, there was no January slump.
- That's right, 2022 is off to a very dynamic and busy start. As we reported recently, we have started the speculative development of another 14,000 sq m building as an extension to Sziget II, after having signed a lease agreement with a Hungarian-owned transport and warehousing company for the 13,700 square metres building built in the first phase, almost from the drawing board. I am also delighted to announce that we have reached another major milestone in the life of Prologis: we have purchased the organic continuation of our Sziget II site, a 19-hectare plot, which brings the total to 32 hectares in Szigetszentmiklós. We are also working intensively on further land transactions, close to the M0 and the well-performing motorway junctions, so I can tell you that the focus is not only on Szigetszentmiklós. This year we are also looking to complete two more built to suit buildings.
- Ambitious plans, others make such a big journey in a year. At the same time, a 76-hectare plot of land in Fót, which was obviously bought earlier for development, has been sold. What was the reason for your decision?
- We asked our existing partners about the location and whether they would lease land there, and they said that until the northern sector of the M0 was completed, that location was not really exciting for them. So we gave up on that location. In general, we also think that we want to be present in locations that will "sell themselves" for decades. That's why we don't prefer to be located next to rural car factories, for example, because we don't want to be so dependent on a single partner. We think in the long term and, as I said, we are constantly looking for opportunities to expand. Acquisition and development are the preferred means of doing this at Prologis.
- It is said that the market for high quality 'A' class products is very limited, overcrowded in some areas or you could simply call it expensive. How does this affect rents?
- They are certainly not going down. Our experience in the Czech Republic is similar: it is simply not available or disproportionately difficult and expensive to find development land in a suitable location, so rents are already above €6/nm/month and approaching €7. The markets are driven by complex effects; in addition to the above, we are experiencing commodity price volatility and relative scarcity across the region. The "result" of this, in addition to the overall cost of construction, is that construction times have increased from 6-9 months, say two years ago, to 10-12 months today. We are well aware that this is not up to the contractor, because if there are no concrete pillars on the market, there is nothing he can do. Development activity has also increased due to the steady growth in demand and overall rents have increased.
- How are tenants responding to the price increases?
- We've been through some very difficult conversations, as rent increases started in 2017. In 2019, with a vacancy rate of nearly 2%, we had sufficient room to increase rents. Obviously, when we are working on leasing a new development, we always have more leeway, less when extending an existing lease. Many of our partners are international companies working within strict financial constraints, but price negotiations are always tough anyway. An increase of 20-50 euro cents is acceptable, but the level of rents in the Czech Republic is unthinkable for us at the moment. It's also important to understand that for us, one of the most important goals is to keep our current customers, to achieve customer satisfaction, alongside organic growth. So much so that we have created a costumer experience team to do just that, with one mission: to retain existing customers by increasing their satisfaction.
- What does this mean in concrete terms?
- Our clients love our collaborative thinking, dedicated attention and fast solutions. We're meeting this need with a new team structure, a redesign of our processes and increased dialogue. We've also known for a long time that retaining staff is a major challenge in our tenants' daily lives. We can help improve this by building a liveable, sporting environment that literally encourages sport; we have artificial turf football pitches in two of our parks and recently opened an outdoor training park in another location, as well as barbecue and relaxation facilities to make otherwise popular family days out even better. We have named this initiative "ParkLife" and the feedback is that it is popular.
- Have tenant needs changed/are they changing?
- There has been an amazing emphasis on renewable energy, part of a collective effort to work together for our future. We aim to achieve carbon neutrality in all our developments. Let me give you some tangible examples: we don't source building materials from the Far East, but from within the region, reducing the environmental impact of transport. We have replaced the lighting in our entire Hungarian portfolio and introduced state-of-the-art light and motion-sensing LED technology. This allows us to offer our tenants lower overheads. Another big future step will be the installation of solar panels. This is a very significant project and it will be good to take advantage of our European purchasing capacity. We have 19.9 million sqm of industrial real estate on the continent, so it makes sense that we will achieve a different price and our tenants will benefit from our market strength. This is in line with our efforts to create an ESG compliant operation (ESG is an acronym for Environment, Social, Governance, which defines the framework for these investments). It is also referred to as socially responsible finance or green finance. Its aim is to enable financial and capital market participants to objectively assess the activities of economic entities (firms, companies, countries) from a sustainability perspective, thus replacing the short-term profit-maximizing mindset with a new, longer-term and ethical profit-maximizing mindset.)
- Who are the new tenant candidates and what kind of enquiries are they receiving?
- All sectors are represented, and we are being approached by an increasing number of manufacturers, which is not unusual as almost half of our current portfolio is made up of manufacturing and assembly companies. We also need to be able to cater for the specific needs of manufacturing companies, whether that means several megawatts of power or a major rebuild. Our customers in logistics and e-commerce have different needs: their priority is taller buildings, fast flow of goods, and serving their expansion needs.
- I take it from your words that you enjoy working between "big boxes".
- In the past, the industrial real estate sector has perhaps been undeservedly overshadowed, even though it is thanks to these buildings that goods reach our consumers and households. This real estate segment supports industry, one of the drivers of the economy. I think we deserve the attention; we have done our job, we have proved ourselves.
Raktarkereso.info