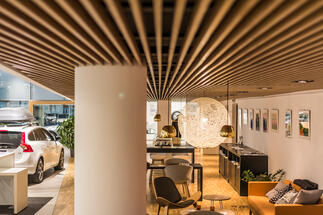 Volvo Auto Hungária Kft. entrusted DVM group with the design and construction works of the Váci út car salon. Due to a refreshed corporate image, the Volvo Gallery and Service was renewed both inside and outside, with a repainted façade and redesigned glass walls. The old parquet floor of the nearly 2000 square meter car salon was replaced by a large cold covering, which is now complemented by a new industrial parquet.
The refurbished spaces are characterized by modern, simple, clean structures and closeness to nature in their use of materials. The fundamental architectural concept was provided by the Swedish parent company, reflecting the brand's philosophy of safety, environmental protection and design. Its distinctive elements were adapted to the needs of the Budapest salon by the designers of DVM group so that visitors can enjoy the true Volvo experience.
During the construction works, the contractor paid attention to minimising the disturbance of both the salon and the office spaces, thus securing the peace of the staff and the guests.
DVM Group