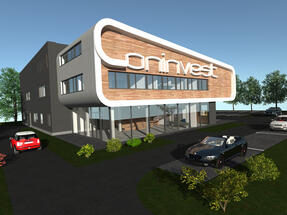 The 100% Hungarian-owned Coninvest Group's investment will not only serve as a company headquarters, but will also include offices, community spaces, training and showroom, warehouses and a design center. The foundation stone was laid in the autumn of 2021 and the project is expected to be handed over in the spring of 2023.
With a 30-year history, the Hungarian Coninvest group is active in kitchen technology, interior design and service. The company, currently based in Budaörs, has grown dynamically in recent years, therefore the company's managers decided to invest in a self-developed property with modern, flexible spaces to meet all needs. The ideal location was found in SÓSKÚTI IPARI PARK, 25 kilometers from Budapest, next to the M7 motorway.
"A long-standing dream of mine is coming true with the creation of a modern headquarters of Western European standards, located alongside the motorway. With bright and spacious spaces, all our products, activities and workflows will be housed in dignified surroundings and in excellent technical conditions. We have spent more than 20 years at our current location in Budaörs, but now it is time for a change", said Mirjam Kertész, Managing Director of Coninvest Group.
Functionality and flexibility
The 1,500 square meter development will not only serve as the new headquarters for the Coninvest group, but will also offer a range of other functions. In addition to modern offices and a training room, the new building will feature a strong emphasis on community spaces. The company will also set up a warehouse for goods and parts as well as a service center. The impressive glass-walled, one-room showroom of almost 400 square meters is located on the first floor of the building. It will feature a show kitchen, café and ham bar, as well as a center to highlight the industrial washing solutions.
There will also be a multifunctional community space for more than 50 people, taking advantage of the building's interior design, and a gallery displaying furniture and materials. A key design consideration was the flexibility of the spaces to be rearranged according to current needs.
Coninvest's future goal is to use the showroom as an active, lively space to organize more professional events, training and competitions, and to reach out to students through the open days.
"As a new element, within the showroom there will be a space dedicated to design, where we will present kitchen objects that, with their design language, shapes, lines and appearance, could be works of art. For example, the collection of antique Berkel ham slicers, designed kitchen tools, knife sets or coffee machines. It also showcases design furniture for guest spaces," adds Mirjam Kertész.
Sustainable solutions
The building will be equipped with state-of-the-art insulation, heat-pump cooling and heating as well as heat recovery ventilation. The smart offices will have opening and presence sensors that automatically turn off lighting, heating and air conditioning. With a view to the future development of the company's car fleet, two electric car chargers have already been installed, and the implementation of a solar car park shading system also planned in the second phase.
The futuristic form of the building was conceived by architect Zsolt Fézler, inspired by the shape of an office paperclip. This underlines the convergence of technology and design in the Coninvest Group.
Development started in October 2021 and the project is expected to be handed over in the spring of 2023.
Coninvest