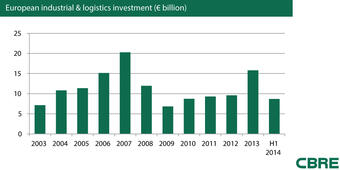 In terms of location, the UK continues to capture the lion's share of industrial investment, with the €3.46 billion invested in the sector this year (40% of total investment).  Germany, France and the Netherlands also saw significant activity over this period.
 
The Nordics performed particularly well in H1 2014, with €878 million invested into the region, an almost 50% increase on H2 2013. The region began the year well with the highest quarterly total since 2007 in Q1 2014 and continues to attract large amounts of capital with high value sales, including a transaction of over €200 million in Sweden in the second quarter of 2014. 
 
"The industrial sector's continued growth in terms of both total investment and percentage of market share reaffirms its position as the sector which can generate attractive sustainable long term income returns, while also benefitting from capital growth along with the rest of the market. Many institutions are just beginning to allocate capital to the sector, and those that are already participating are looking for further increases", James Markby, Head of EMEA Industrial and Logistics Investment, CBRE, commented.
 
On the occupational side, industrial take-up rose across most countries in the first half of the year.  Demand for warehouse space in core EMEA countries increased 42% year-on-year.  Paris, Milan and Budapest saw the strongest improvements in leasing activity, followed closely by Dublin and Amsterdam. While demand is improving, there is still a mismatch between supply and demand.  The availability of modern stock in well located areas is limited, which leaves occupiers with the option of taking space in secondary locations, or initiating a build-to-suit project. Therefore most newly completed space tends to be build-to-suit, although we are now seeing renewed appetite and some speculative development in the more strategic western European markets.
 
In Budapest demand for industrial space improved significantly during the quarter. Total take-up for the quarter was 67,416 sq m, which was a significant rise on the Q1 figure and the highest number recorded since Q3 2008. Not all activity generated was new however, as renewals accounted for 45% of the total leasing activity. The vacancy rate currently stands at 19.1% which is 2.6 pps lower than in Q1.
 
"While the region in general has seen a noticeable increase in industrial investment activity, Hungary is still waiting to see the same level of investor activity. As the leasing market improves and the overall vacancy rate decreases, CBRE expects renewed investor interest in the industrial and logistic investment market", -Tim O'Sullivan Head of Capital Markets at CBRE Budapest added.
 
CBRE