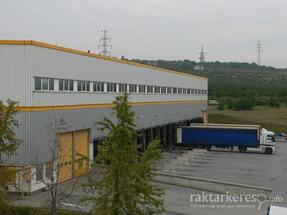 With the lease contract signed at the end of 2013, Gebrüder Weiss has become the largest tenant of Rozália Park. The 10,000 square meters of warehouse space will supply materials for the logistics company's partner, Grundfos, producer of industrial pumps, for its factories in Székesfehérvár and Tatabánya.

"Gebrüder Weiss's recent deal is a further proof that more and more companies are optimistic about the future and are expanding their range of services as our client does in the Rozália Park." - said Gergely Baka, Head of CBRE's Industrial Agency.

"As one of the dominant regional transportation and logistics companies in Central Europe, we are pleased to take part in our client's expanding manufacturing operations, with which we also contribute to the company's international expansion." - said Thomas Schauer, Managing Director of Gebrüder Weiss Ltd.

The Grundfos Group is the world 's largest producer of industrial pumps, it operates 73 companies in 45 countries. The company moved its previously Denmark based electric motor production to Tatabánya in 2000, and a year later built a second factory. Then the Székesfehérvár unit opened in 2007, which was followed by the construction of a new factory in 2013.

Rozália Park is located in Pest county's industrial center, Biatorbágy, right next to the M1 motorway. It is an ideal location for logistics and manufacturing companies. The industrial park belongs to Challenger Holding, of Australian background, and it is leased and operated by Jones Lang LaSalle of Budapest. Roland Kis, senior industrial real estate consultant at Jones Lang LaSalle, pointed out that during the preparation of the contract they were trying to maximally meet the demands of the new tenant's conceptions: It is important for us that our tenants feel good and that we too can contribute to their business success with our services."
CBRE