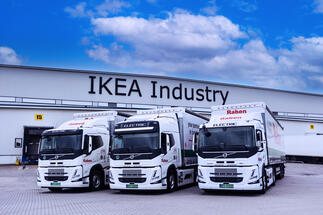 The first months of operation of a Volvo FM electric truck to serve the IKEA factory in Zbąszynek proved that zero-emission transport is a viable alternative to conventional vehicles and does not adversely affect the continuity of deliveries. Considering the reduction of CO2 emissions as well as the comfort of the drivers, IKEA Industry and Raben Group have decided to increase the fleet of electric trucks by two more units.
The electrification of heavy-goods vehicles is a key solution in the implementation of zero-emission transport, which will bring IKEA closer to its strategic goal of becoming a climate-positive company later this decade. According to the adopted targets, the plan is to reduce greenhouse gas emissions by 70 per cent from all product transport by 2030, and 10 years later to make this transport already zero-emission.
In 2022, IKEA Industry Zbąszynek started a pilot project for the internal operation of zero-emission freight transport between its production sites. Currently, the electric trucks make 12 trips a day, six days a week, between the factories in Zbąszynek and Babimost, which are separated by a distance of 12 km.
The trucks are charged using electricity from renewable sources. IKEA Industry has invested in five own charging stations: two with a capacity of 150 kW located at the Zbąszynek and Babimost locations and a further three with a capacity of 43 kW at the buffer truck park. A transformer was also installed to support them. The entire process of preparing the charging infrastructure took about 12 months. IKEA Industry is currently preparing to launch two more charging points at the Zbąszynek warehouse, which will start operating in September this year.
We believe that in order to achieve our goals and have a real impact on the environment, we need to act here and now. Green solutions are a must for sustainable development. The electrification of transport between our factories is still being tested, but we are making attempts and gradually scaling up, seeing what results this brings. Collaboration is key, because we can only work together to decarbonise the industry. - says Małgorzata Dobies-Turulska, Managing Director of IKEA Industry Zbąszynek.
Raben Group feels particularly responsible for the environmental impact of heavy transport. The leadership role in the logistics market calls for further efforts to improve climate conditions. Therefore, after several months of pilot cooperation, two more Volvo FM electric trucks were deployed together with IKEA Industry on the route between the factory complex in Zbąszynek and the production facility in Babimost.
The trucks work with semi-trailers with a payload of twenty-four tonnes make up to thirty-six deliveries a day in three shifts. Raben Transport employs twelve drivers dedicated to this project and manages the transport operations taking care of the efficiency of the vehicles and the continuity of the delivery process. It also continuously monitors the performance indicators of the trucks in order to summarise the results of the project together with IKEA Industry and Volvo in the near future.
This project is a real, conscious effort to bring us closer to our environmental goals. The deployment of three electric trucks in Raben Transport's own fleet is a step towards reducing CO2 emissions in heavy transport in line with our Science Based Targets (SBTi) goals. It is also an opportunity to evaluate the solution in practice with a view to implementing electric trucks at other Raben Group customers projects - explains Joanna Górna, Key Account Manager, Raben Transport
The delivery of more Volvo FM electric tractors to IKEA Industry and Raben Group is a significant step in Volvo Trucks' zero-emission transport strategy. At this point, we have stopped looking at electric trucks as a unit and started talking about successively increasing the share of the Volvo FM electric fleet at a single customer. Thanks to such decisions, we can talk about greater CO2 savings and a significant step towards reducing CO2 emissions. We are pleased that there are companies on the Polish market that courageously and consciously decide to invest in the ecological transformation of road transport - comments Marek Gawroński, E-Mobility & Sustainability Director, Volvo Trucks Poland.
Once again, Volvo FM Electric trucks will be used to handle internal transport flows at the two factories in Zbąszynek, Poland. The tractors, together with six 540 kWh batteries, guarantee a range of up to 300km. All-electric Volvo FM 4x2 truck is equipped with 3 electric motors. Completing the offer is an 4-year Gold Service Contract guaranteeing full cost control, trouble-free vehicle operation and maximum availability.
More information on the results of the Volvo FM Electric at the IKEA factory in Zbąszynek will be presented at the New Mobility Congress in September 2023.
Raben