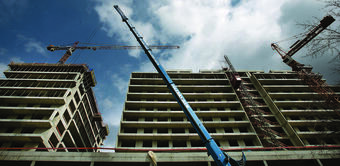 In total, less than 73,000 sq m space is currently vacant in the Budapest metropolitan area of the 1.95 million sq m total modern logistics area, and only four "A" class buildings can offer more than 5,000 sq m contiguous warehouse space. The lack of available space is due to the strong absorption of the last few years, and at the same time there are still limited number of speculative projects in progress or have building permits, says Tamás Beck, Director of Industrial Agency at Colliers International Hungary.
The lack of labor force in the construction industry has an effect of increasing the labor costs, as well as the overall construction costs, and the construction time of a bigger project can exceed even 8 months. Additionally, there is a shortage of supply in terms of so called 'plug and play' development lands, that are immediately ready to develop. Currently rents are up to EUR 3.6 - 3.9 /sqm/month for big box-logistics and up to EUR 4.5 - 5.5 /sqm/month for city logistics.

Construction activity showed significant increase in H2 2016 and H1 2017 as five new projects – 50,000 sqm in total – were handed over so far and an additional 50,000+ sqm (Inpark Páty, East Gate Business Park and Budapest Dock Szabadkikötő) is expected to be handed over until the end of the year. These speculative buildings are typically pre-leased by the end of the construction, thus they do not appear in the supply as vacant spaces.
The general strength of the market is perfectly reflected by the fact that the new leases, expansions and pre-lease transactions were decisive elements, however due to the low number of new developments realized, market activity was still driven by lease renewals (65%).

"Similar to the rental market, sales market follows the same trend, where assets with reasonable pricing and good quality can change hands even within a few months. Colliers' major selling successes this year were the sale of the 35,000 sq m building of Jacobs Douwe Egberts in Budapest XV. district, and the sale of Scanfil's 15,450 sq m industrial site in Biatorbágy." – added Tamás Beck.
Source: Colliers International, BRF