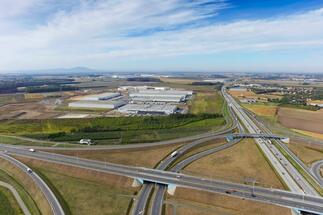 Leases at the facility include the following:
• 7,195 square meters for a pharmaceutical company and drug manufacturer;
• 2,300 square metres for Emako, an online store that sells home and garden supplies;
• 1,890 square metres for, a leading logistics operator.
"We were happy to adapt the facility to better meet the needs of our customer, a well-respected company operating in the pharmaceutical sector. As well as installing a high-quality system for optimal temperature and humidity control, we recognized the importance of securing the gates and docks to prevent air from entering. To that end, we created delivery and release chambers that form transitional buffers in front of the facility entrance," said Ewa Zawadzka, vice president, head of land and development, Prologis Poland. "By working with our customers to understand their needs, we are proud to announce that Prologis Park Wrocław V is now fully occupied."
Prologis Park Wrocław V comprises six facilities totalling 136,000 square metres. It is located in Nowa Wieś Wrocławska, three kilometres southwest of the Bielański Junction at the interchange of the A4 motorway (Berlin-Wrocław-Kraków-Ukraine) with the SB/E67 Expressway, near the Wrocław Motorway Ring Road. In addition to its excellent location, the park offers customers the ability to expand their logistics operations.
With its active engagement in four CEE countries and a portfolio totalling 4. 4 million square metres, Prologis is the leading provider of distribution facilities in Central and Eastern Europe (as of 30 September 2016).

ProLogis