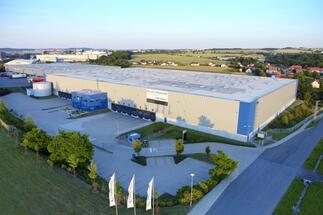 "The D1 zone is the most sought after sector within Prague's industrial logistics market and we are pleased to have leased 50 percent of Prologis Park Prague D1 West II so shortly after acquiring it," said PavlínaPlašková, Prologis Leasing Manager for the Czech Republic. "It is in line with our strategy to provide our customers with high-quality facilities in key locations, especially when there is a lack of large industrial spaces in the vicinity".

"An expanding customer base and a lack of room at our current location led us to look for a new facility," said Milos Edelmann, EYELEVEL an InnerWorkings company, DC Director. "Prologis was able to provide us with a superb facility, which has a generous eaves' height of 12 metres, in the perfect location".

Prologis Park Prague D1 West II is located near exit 10 of the D1 highway, which is approximately 11 kilometres southeast of Prague, and is ideally positioned as a Central European distribution hub. The location is only
20 minutes from the international airport and connects Prague with the Brno region.Itprovidesfurther access to Ostrava, Bratislava and Vienna, and is a one-hour drive to Pilsen via the D5 highway.

With a regional portfolio totalling more than 4.1 million square metres, Prologis is the leading provider of distribution facilities in Central & Eastern Europe (as of 30September, 2014).
Prologis