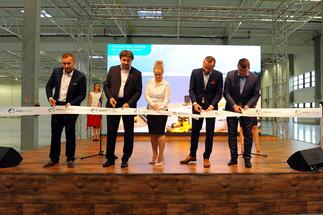 The opening, which was attended by representatives of local authorities, customers and business partners, was marked with a ceremony called "Arrange business according to your needs," which summarized the benefits to Prologis' customers of small business and office units. Thanks to the company's ability to combine high-quality office and distribution space under a single roof, the SBU facility can be easily adapted to the scale of business.

"This is the second SBU facility in our Polish portfolio," said Paweł Sapek, senior vice president and country manager, Prologis Poland. "After the success of our SBU at Prologis Park Wrocław III two years ago, we decided to develop a similar investment in Silesia. We were certain that the flexibility of office and distribution space within the city limits would quickly attract customers. This has been confirmed by the fact that the building is already 60 percent leased."

"We are proud that the construction of the last building at Prologis Park Chorzow went smoothly and was completed on schedule," said Tomasz Oktaba, director project management, Prologis Poland. "This is a top-of-the-line SBU facility in the Silesia region. It was built according to standards of sustainable development and has undergone the process of BREEAM accreditation."

Prologis Park Chorzów is located on the western outskirts of Katowice, in the immediate vicinity of the A4 motorway connecting Ukraine and Germany, and is 15 kilometres from the Gliwice-Sośnica interchange, a junction of two of the largest international transport corridors in Poland.

With its active engagement in four CEE countries and a portfolio totalling 4.3 million square metres, Prologis is the leading provider of distribution facilities in Central and Eastern Europe (as of 30 June 2016).
Prologis