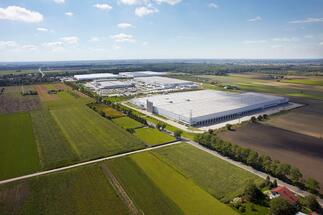 Operating Performance
Prologis Europe ended the third quarter with 96.1 percent occupancy, an increase of 50 basis points from the second quarter. The company signed new leasing agreements totalling 549,130 square metres in the third quarter, nearly twice the volume signed in the same period in 2015.
At quarter-end, the company owned or had investments in, on a wholly-owned basis or through co-investment ventures, properties and development projects of 16.6 million square metres in Europe.
"The initial shock of Brexit faded over the summer; customer sentiment remained positive with little to no impact on transactions," said Ben Bannatyne, president, Prologis Europe. "Strong leasing activity contributed to record high occupancy across our European portfolio. We continue to see significant rental growth in the U.K., and increasingly across continental Europe – specifically Germany, the Netherlands and the Czech Republic."
Markets with the strongest interest from customers in the third quarter were:
• the U.K., Germany, the Netherlands, and Sweden in Northern Europe
• Lyon, Le Havre, Valencia and Barcelona in Southern Europe
• Prague, Budapest and Bratislava in Central and Eastern Europe
Notable new leasing activity in the third quarter included:
• 22,300 square metres for 4PX, a Chinese e-commerce company, at Prologis Park Dunstable, UK
• 23,660 square metres for Logent, a third-party logistics provider, at Prologis Park Gothenburg, Sweden
• 20,000 square metres for Samada, a third-party logistics provider, at Prologis Sénart DC1 near Paris, France
Development Starts
Supply of Class-A distribution facilities remains low across all European markets. In the third quarter, Prologis Europe started 14 developments in the U.K., Germany, the Netherlands, France, Spain, Poland, Czech Republic and Slovakia. Totalling 291,000 square metres, 69 percent of the development space was build-to-suit and 31 percent was speculative.
Development starts included:
• 60,000 square metre build-to-suit for XPO Logistics at Trade Port North, Venlo, the Netherlands
• 23,530 square metres developed speculatively at Prologis Park Le Havre, France
• 21,400 square metres developed speculatively at Prologis Park Wrocław V, Poland
• 20,500 square metres for Mall.cz, an e-commerce distributor at Prologis Park Prague-Jirny, Czech Republic

"We continue to selectively develop in tighter markets with solid operating fundamentals," Bannatyne said. "Total development activity continues to be buoyed by availability of capital and low vacancy levels, with e-commerce end users accounting for 44 percent of all build-to-suit starts."
Acquisitions and Disposals
In the third quarter Prologis Europe acquired five land plots across Europe. These acquisitions were in line with Prologis' strategy of investing carefully in global markets.
"Investor interest in logistics real estate continues to outpace core investment opportunities, which is directing capital into development," Bannatyne said. "Cap rates remained stable over the third quarter."

ProLogis