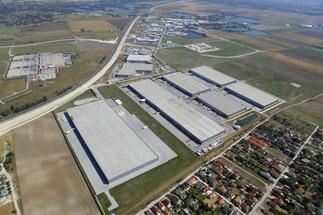 This build-to-suit facility was designed to meet the requirements of the Transported Asset Protection Association. It includes column-free warehouse space, side-loading ramps for trucks and vans and cross docks with 6 metre eaves' height, which provides optimal operational costs for heating and lighting. The facility's 7.5metre column grid allows for 45 docks along with a side loading ramp and a forklift ramp to serve the 5,000 square metre space. It has approximately 35 more docks per rentable space then traditional logistics buildings.

The facility was delivered in November 2014 for DB Schenker, a leading integrated logistics provider and long-term, global customer of Prologis, which is also leasing 20,000 square metres of adjacent space. It also houses DB Schenker's new office headquarters, accommodating more than200 staff in 2,500 square metres of modern office space, which was also built according to sustainability and ergonomic guidelines.

"As an industry leader in environmental stewardship, Prologis understands the importance of providing industry-leading energy-efficient buildings that reduce operating costs and increase customer profitability. We are extremely proud to be the first company in Hungary to receive the "Good" accreditation under the new BREEAM guidelines, especially for an industrial cross-dock building," said László Kemenes, vice president and country officer for Hungary & Romania for Prologis. "Although green building solutions and concepts are becoming more popular in Hungary, only a few developers can deliver state-of-the-art modern facilities that adhere to the strictest international sustainability guidelines such as BREEAM. Prologis is proud to be the front runner."

"We are particularly happy that we received exceptionally high ratings for energy and pollution credits from BREEAM," added Balázs Bellák, head of project management, Prologis CEE. "The building's advanced mechanical and electrical systems, combined with ergonomic architectural features, provide the customer with a comfortable and efficient working environment, while reducing operational costs with minimal impact to the environment."

Prologis Park Budapest-Sziget is a modern distribution centre totalling more than 128,000 square metres of space, and has the potential for 36,000 square metres of development space. The park is located in the industrial zone of Szigetszentmiklós, providing direct access to the national and international road network via the M0 Budapest ring road.

Prologis is the leading provider of industrial real estate in Hungary with a portfolio totalling more than 612,000 square metres (as of 31 March 2015).
Prologis