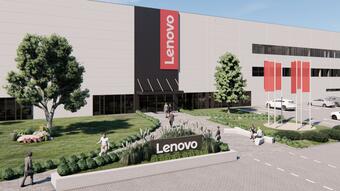 As part of the investment worth more than EUR 18 million, CTP is building Lenovo's first high-tech European plant on nearly 35,000 sqm, the delivery of which is scheduled for spring 2021. Lenovo's management selected Hungary for the investment after examining several European locations, mainly due to its central location, excellent transportation, well-trained workforce and favourable economic environment.
The investment will create almost 1,000 new jobs in several phases and will deploy state-of-the-art technologies in Hungary, which will allow Hungarian IT professionals to work in a world-class factory. The unit will primarily produce desktop computers, graphic workstations and data center devices, and this manufacturing facility will be part of Lenovo's global footprint of 30+ factories around the world.
"We are proud that Lenovo's first European plant will be built by CTP and will begin the production by our cooperation," said Dávid Huszlicska, Business Development Director.
ctPark Budapest East located in Üllő, 8 km to the South-East of Budapest at the intersection of M0 ringroad and motorway M4, just a few minutes' drive from Budapest International Airport, creating an ideal environment for international manufacturing and logistics companies.

CTP