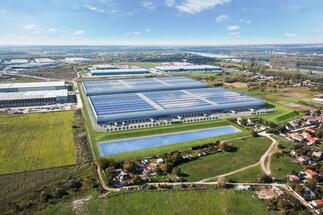 In that time, it has doubled its portfolio in the region, with a total of nearly 2.5m sq m of building assets currently under management in Poland, the Czech Republic, Slovakia and Hungary. The company is planning new ventures that will reinforce its position among the leading logistics real estate investors, developers and managers.
There are already 64 buildings in GLP's real estate portfolio in Central and Eastern Europe. They are used by leading e-commerce, FMCG, 3PL and automotive brands that require facilities that meet the highest functional, technical and sustainability standards. What also sets them apart is their location in the immediate vicinity of CEE capitals and other major metropolitan areas and industrial centres in the region.
All new GLP logistics centres have a storage height of 12 m and are fitted with numerous utility-saving solutions, including smart metering systems and solar-ready rooftops.
The company also digitises the process of designing, constructing, and managing logistics buildings. By creating a digital twin, the whole building life cycle can be optimised more easily in terms of time, cost, and comfort of use. A digital building model facilitates quick access to the entire building documentation, which helps identify and fix possible defects, improve guarantee management, and minimise utility consumption.
Around 100% of space in GLP buildings in Central Europe is currently leased. The company actively monitors and implements development opportunities associated with stable demand for quality logistics space, with its plans including the expansion of existing parks as well as high quality new developments near Budapest, Bratislava, Wrocław and Katowice.
"We're seeing continued interest in our buildings, which translates into partnerships with about 125 clients in the region, including the key players in the growing e-commerce segment. The demand for advanced spaces that support modern logistics and light manufacturing is stable, driven by changing supply chains as a result of the pandemic and the war in Ukraine. While the countries we operate in differ in terms of challenges including the size and absorption capacity of individual markets and the availability of investment land, they generally give us opportunities for growth," says Błażej Ciesielczak, Regional Director CEE at GLP.
In Poland, the Czech Republic, Slovakia and Hungary, GLP has the potential to develop another million square metres of space in buildings with exceptional energy efficiency performance and solutions recognised with international sustainability certificates. Upcoming projects include:
• Sziget Logistics Centre II – 110,000 sqm of high quality, energy efficient logistics space in the suburbs of Budapest, right next a retail park and our Sziget I project, that was fully leased way before completion.
• Bratislava Business Zone – over 130,000 sqm by Bratislava Airport. This cutting-edge project will boost the placemaking concept, combining technologically advanced warehouses with e-commerce showrooms, retail and open to public green space. Taking what is known as logistics project to the next level.
• GLP Wrocław V - the expansion of one of the biggest logistics project in Wrocław (300,000 sqm). All 3 existing buildings are fully leased to leading e-commerce players and the following 4 are already gaining interest from the market. Located between an express- and motorway Wrocław V is to become e-commerce logistics hub of South-Western Poland
• GLP Lędziny II – after commercial success of GLP Lędziny Park and great cooperation with local authorities, we are expanding our business in the industrial heart of Poland with another 200,000 sqm. The project includes public green area safely separating us form residential neighbourhood and well as new road infrastructure for both our customers and local residents.
"One of GLP's differentiators is its long-term perspective on the properties it creates. The buildings remain in our portfolio for longer and are managed personally by our specialists. This approach helps forge a strong relationship with our clients and give special attention to the quality of the buildings at the development and daily operation stage. GLP also offers many business lines complementary to our real estate operation, such as developing robotics or green energy sources, which already are and will only become more common in our buildings," says Marek Jandous, Investment and Asset Management Director, CEE at GLP.

GLP