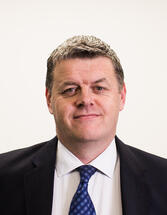 The winner was chosen based on overall performance and consistent outstanding results during the past year. In addition to this success, CTP also realized its ambitious expansion goals in Hungary and extended its management team, welcoming new Chief Operating Officer, Mr. Robert Pitt, and new Country Manager of Hungary, Mr. Rudolf Nemes.
The Hungarian & Balkan Real Estate Awards & Investment Forum is the only commercial real estate event that is truly international. The nominees included companies operating within Hungary, the Czech Republic, Slovakia and the Balkans region. This award confirms CTP´s dedication to offering first-rate services provided by an exceptional team, which has recently expanded to ensure future growth and productivity.
As the new COO, Mr. Robert Pitt will assist in setting up the processes needed to efficiently help the operational structure of the company, both at local and international level, thus preparing CTP for the further growth needed to achieve its ambitious goals. He will focus on HR, IT, Legal, Controlling and Construction, Design, Permitting and Procurement, and will also work with the local construction team on the projects under development throughout the country. Mr. Pitt, 47, has a degree in economics from University College of Dublin and previously worked for Lidl in Ireland & Northern Ireland as Property Director and then as COO for Lidl in Czech &Slovak Republics. He continued his career as COO and CEO of Tesco's franchise business, where he spent almost eight years. Most recently, he was CEO of Independent News & Media PLC Ireland.
New Country Manager, Mr. Rudolf Nemes, expects further expansion of its Hungarian team in 2018, thus supporting the growth of the local portfolio by more than 25% and improving the profitability and efficiency of all operations.
"I'm very proud of the entire CTP team. We have achieved great success, proving that we are doing our job well. We appreciate every award and we will continue to work to be even better. Presently, we have strengthened our team in Hungary and we will be focusing on boosting our local portfolio," said Mr. Nemes.
CTP