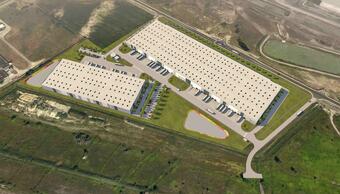 The new VGP Park Győr Bétawill be the second VGP park in Győr, close to theexisting VGP Park Győr. The park is located in the industrial area of Győr, ca 4 km from the M1 highway connecting Budapest and neighbouring capitals Vienna and Bratislava. Győr is the industrial, economic, business, educational and cultural center of the Northwestern region of Hungary, one of the most innovative and most dynamically developing city in the country. Due to its strategic location with direct connections to the capital cities in the region, the city is a proven logistic hub. In addition, thecity hosts several automotive suppliers. The new park offers quality infrastructure, includingpublic transport on site. Győr and the surrounding region, home to more than 250,000 inhabitants, ensure the availability of skilled labour.
Thepark will consist of two buildings with a total lettable surface of 46.000 m2. The premiseswill besuitable for logistics,light production and commercial activities.The buildings will bedeliveredwith a BREEAM (Building Research Establishment Environmental Assessment Method) Very Good certificationwhich proofsthe implementation ofa sustainable environmental approachin the construction works whilst at the same time tries to improve thepotential productivity, comfort and wellbeing of building occupants.
The first building under construction will have a total lettable surface of approximately 3,000 m2. Delivery of the building is planned for March 2022.
A first lease contract with an international logistics provider has already been securedfor a total lettable area of about 3.300 m2.
Laszlo Balogh, Commercial Director of VGP Hungary,says: "We are happy to have launchedthe construction of this new sustainable park, our fifth VGP park in Hungary. We are seeing great demand and interest in the new buildings from various potential tenants."
Cushman & Wakefield advised VGP on thefirst tenancy. Gábor Halász-Csatári, Partner, Head of Industrial and Logistics at Cushman & Wakefield Hungary states: "We aredelighted and proud to have been able to cooperate with VGP on this benchmark transaction in Győr. This deal is the result of a professional and thorough collaboration between VGP and the Tenant with the contribution of Cushman & Wakefield. We cherish our excellent relationship with VGP and look forward to making deals together in Győr and other locations."

VGP