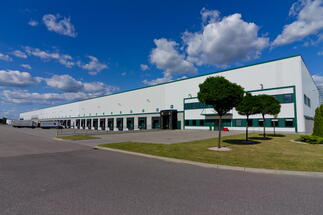 This represents the third lease agreement signed by Prologis in Central and Eastern Europe with an e-commerce company in the last quarter. BNP Paribas Real Estate Poland facilitated the transaction.

"Allegro continues to look for new solutions for both its customers and business. Prologis Park Błonie perfectly meets our needs. Its convenient location is also important in terms of workforce availability," said Adam Pawelczak, Suply Chain Director at Allegro.

"We are experiencing a logistics boom within e-commerce in Poland, and expect lease agreements with these companies to total up to 700,000 square metres by 2020, " said Zbigniew Smyczyński, leasing manager, Prologis Poland. "We are pleased that Allegro has chosen Prologis Park Błonie as the location for its distribution facility. Suburban parks are becoming increasingly attractive locations for companies because of staff availability, attractive labour costs and relatively low rent costs. Prologis Park Błonie satisfies all the needs of this particular sector."

"The e-commerce market is witnessing exponential growth, which translates into the need to accelerate project deliveries for the key players in that sector. Closing the deal for Allegro required a great deal of discipline on our part due to the tight schedule," said Martyna Kajka, consultant, Industrial & Logistics Department, BNP Paribas Real Estate Poland.

Prologis Park Błonie is a state-of-the-art distribution centre comprising seven buildings totalling 152,000 square metres. Located 25 kilometres to the west of the Warsaw city centre, near Road E30/DK92 which connects Western and Eastern Europe, and the A2 motorway, which connects Warsaw and Berlin, it is particularly attractive for companies providing distribution services on both a European and regional scale.

With its active engagement in four CEE countries and a portfolio totalling 4.3 million square metres, Prologis is the leading provider of logistics facilities in Central and Eastern Europe (as of March 31, 2016).
Prologis