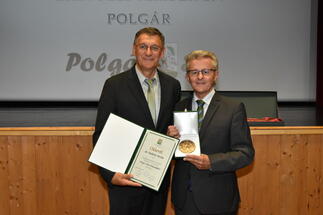 The title is the recognition of the work that Dr. István Székely has done for the town of Polgár via the development of Polgár Industrial Park - now IGPark Polgár - over three decades, and thanks to which the companies operating in IGPark Polgár are now the main employers of the town's population.
Dr. István Székely, founder of the nearly 35 year-old Infogroup, was one of the first real estate developers to recognise the industrial-logistic potential of Eastern Hungary. The basic infrastructure of the industrial park was laid down in 2022 and today it has become one of the largest industrial-logistic hall networks in the Trans-Tisza region. Initially covering an area of 27 hectares, the industrial park now incorporates 58 hectares and is expected to nearly double in size within a few years.
Up until today, Infogroup has carried out approximately HUF 15 billion worth of development in Polgár, creating long-term value for the city and the Eastern Hungary region.
Infogroup