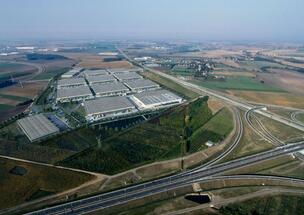 Although the supply of modern logistics facilities remains limited in the CEE region, in the first half of 2013, Prologis completed a 7,000 square metre extension for ROHLIG SUUS Logistics in Prologis Park Janki, and began construction of three build-to-suit facilities, totaling 71,000 square metres, at Prologis Park Wrocław V:



17,800 square metresfor the leading wholesaler and retailer of household appliances, audio/video and IT devices on the Polish market (Building 2);



18,300 square metres for Tradis, part of Eurocash Group (Building 3);



35,000 square metresfor Eko Holding (Building 4).



Prologis is also planning to deliver a fifth building, totaling 16,200 square metres, at Prologis Park Wrocław III as part of its Small Business Units (SBU) project, meeting customer demand for smaller warehouse modules and larger office space.



Operating Portfolio Metrics


The level of occupancy in Prologis CEE portfolio was 91 percent at the end of the second quarter. Between January and June 2013, Prologis signed leasing agreements totaling 498,000 square metres – 177,000 of which were new leases, 220,000 square metres of renewals and the remaining on short-term agreements.



A majority of total leasing activity during the first half of the year took place in Poland. The strongest performing CEE markets with close to zero vacancy at the end of the second quarter include Wrocław, Poznań, Prague and Bratislava.



Ben Bannatyne, Prologis managing director for Central and Eastern Europe said: "We are seeing rental growth in the strongest performing submarkets with a notable increase in the number of inquiries from FMCG and e-commerce related companies."



"We are focused on putting our land bank to work and growing our platform in a disciplined manner in markets where demand exceeds supply," headded.



With a portfolio totaling more than 3.5 million square metres (as of June 30, 2013), Prologis is the primary operator of distribution facilities across Central and Eastern Europe including Poland, the Czech Republic, Hungary, Slovakia and Romania.
Prologis