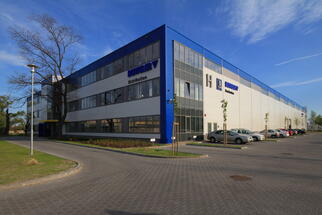 SDV, the subsidiary of the French Bolloré Group opened its first Hungarian office as part of its CEE expansion strategy and it chose the Airport City Logistics Park for such purpose.

Hungary is the 22nd country in Europe where SDV is present. Our objective is to make Hungary one of the major centres of the global network development of our company group. For the purposes of meeting such objective, the Airport City Logistics Park was an excellent choice which – with its prime location, exigent office environment, flexibility of the landlord and the possibility of on-site airport customs – fits all our operational and commercial needs. – said Zoltán Bagyinszki, Chief Executive Officer of SDV Hungary Zrt.

We are delighted that one of the largest logistics companies of the world became the tenant of the Airport City Logistics Park where further storage and office premises are available. The satisfaction of our tenants is the most important for us which we manage to achieve by providing high quality office- and storage solutions and services. – emphasized Adrienn Lovro – country manager of CPI Hungary & Romania – in connection with the conclusion of the contract.

Thanks to the excellent location, the flexible fit-out solutions and the market leading technical novelties, the storage premises of the Airport City satisfy all needs between the "small-unit" storage premises with an area of 600 square metres all the way through to the high storage level of ten thousands of square metres.

Airport City Logistics Centre draws the attention of such logistics-, conveyor- and production companies as well as domestic and international undertakings being active at the area of commerce for which the proximity of both the Liszt Ferenc International Airport and that of beltway no M0 is of significance and the easy accessibility of the city centre as well as the proper airport customs services within the logistics park are important. As a place of business it provides prompt connection to remote points of the world which provides significant market advantage to its clientele. Such well-known companies like Benteler, Panalpina, Trilak, Küehne+Nagel and Jas have found their seats in the logistics park.
CPI Hungary