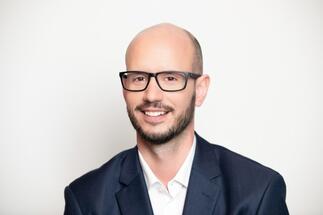 - In a nutshell, how would you summarize 2020 from a logistics market perspective?
- There is no doubt that 2020 was difficult at a human level. Challenges in our sector however, were met with good prospects from a professional point of view. Logistics real estate demonstrated its resilience. With credit to our customer-first approach, portfolio, and strength of balance sheet, we were uniquely able to support our employees, customers, and partners throughout 2020. Prologis started several programmes worldwide, and reacted to local communities' needs. During the first lockdown Prologis supported the local community in Budapest 22nd district, while in December we donated 800 LED-lighting to local families in need.
- There are many positive signals coming from the industrial property market, more so than from other sectors. Are you optimistic about the future?
- There is good reason to be optimistic. The logistics real estate market looks to be solid overall and our financial results for 2020 show that Prologis is capably able to weather downturns.In Hungary, we have a record high 98,4%, occupancy rate, with the majority of our customers choosing to extend lease contracts with us to ensure stability and business growth in prime location.
- What are your expectations for 2021?
- Based on demand growth, which looks set to continue throughout 2021, we expect increased market activity. Our focus is on providing tailored warehouse solutions and as-a-service innovations to create community and wellbeing benefits that help our customers' businesses succeed. We intend to maintain the stability of our portfolio and to grow organically by maximizing investor value based on our development activities.
- Is there still space for further development along the M0 motorway?
- Yes there is, but most require further legal and infrastructure preparations (e.g. building road connections or roundabouts) before development can actually begin. Take into account the high occupancy rate in the "greater Budapest" region and companies looking for warehouse space will likely to find few large contiguous rental spaces.
- Location will surely be a large success factor for Prologis Park Budapest-Sziget II. Could you say a few words about the project?
- With this new, 13-hectare site we have expanded our Hungarian portfolio in Szigetszentmiklós considerably. The land is located just across the road from our fully developed and leased Prologis Park Budapest-Sziget, next to the major logistics artery – the M0 motorway. The site has two direct access points to the motorway, ensuring excellent connectivity with all major transport routes. Sziget II is ideally placed within city limits and has all the necessary permits and development potential for two modern facilities totaling 60,000 square meters. Behind each Prologis development are our PARKlife principles, meaning that our customers at this new park will also enjoy the same added benefits and services beyond simply, four walls and a roof. PARKlife not only provides tailored warehouse solutions, but also a range of customer-centered services and amenities, such as park security, dedicated on-site technical support, car-sharing programmes, green areas and a high focus on employee wellbeing.
- How has the market changed in recent years, what do customers now expect from a modern warehouse building?
- Customers expect cost-effective, energy-efficient, green solutions and high-quality services. Our customer-focused PARKlife concept focuses on three pillars – high-quality spaces that support our customers' needs, the wellbeing of all who work there and providing a place where communities can thrive. We are revolutionizing the way our customers access the services and support they need to run their business more efficiently, cost-effectively, and more sustainably.
- Rents have risen slightly, but construction costs seem to be at an all-time high level. Is there talk of stabilization, has any balance been established?
- Contractors have indeed been forced to rethink their strategy. However, flexible pricing does seem to be taking hold in the market. Industry statistics show that the rental prices of logistics properties located in the outer suburbs have roughly doubled in the last ten years. Prologis, noted a slight uptick in rental growth over the past few quarters, despite the circumstances and have also been successfully able to deliver developments on time.
Raktarkereso.info