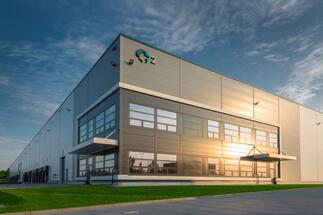 "When searching for space, we focused on the park's location and the standard of the property. Prologis Park Łódź is located near the geographical center of Poland, which makes it a transport and logistics hub, perfectly suited to our needs. The high standard of the facility, as well as the wide range of services offered at the park, helped make our final decision," says Jarosław Płusa, President of Uniq Logistic.
"At Prologis Park Łódź we are committed to ensuring the provision of modern infrastructure and sustainable solutions, while offering various tools to facilitate property management. Our customer also values direct access to public transport – there is a tram and bus stop nearby, allowing for a quick and easy commute for employees," underlines Kamila Pruk, senior leasing manager, Prologis.
Axi Immo advised the customer during the transaction. "Our customer had a very clear vision for their warehouse needs. Prologis' offer clearly stood out, with its convenient location near the company's headquarters, the very high visibility from the road and the quality of the space," says Hubert Wojtera, Head of Industrial & Logistic at Axi Immo.
By moving the first row of pillars back in the loading dock area, forklift maneuvering has been greatly improved. And thanks to additional skylights that take up 5 percent of the roof surface, the area receives more natural light.
The facility features an ESFR system, energy-efficient LED lighting and smart metering. Neatly integrated into a dedicated online customer platform for property management this smart metering allows for remote reading and monitoring of all utility meters in the facility.
The park offers ample parking both cars and trucks, wide and convenient maneuvering areas, and 24/7 security. Customers also have access to on-site technical services and a dedicated team of Prologis property managers.
Prologis Park Łódź is located in Widzew-Olechów district, only 3 kilometers from the A1 highway (Katowice – Łódź – Gdańsk), 12 kilometers from Łódź city center and 21 kilometers from the Stryków junction (intersection of the A1 and A2 highway).
Ultimately, the park will total 93,000 square meters of industrial space and representative offices with fully customized features.
Prologis