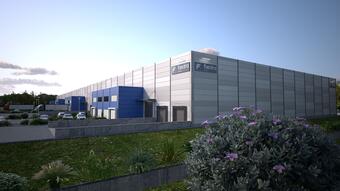 The popular urban logistics property development is fully leased, four international and local companies are leasing the approximately 14,500 sqm of warehouse space and 2,000 sqm of office space. In addition to the high-quality technical solutions the flexible space arrangement, and the possibility to serve individual needs, the excellent location was a key factor in the tenants' decision-making.
The project was an investment by the Hungarian-owned Faedra Group real estate development company. The logistics center is located in the XXII district of South Buda, at the intersection of the M0-M6 highway and main road No 6, only 15 km away from the city center, and also easily accessible by public transportation (both buses and trains). Due to its vicinity to the city center, the building is excellent for "last-mile" logistics operations.
The development of the new, technically "A" class warehouse and office building started in spring 2022, incorporating cutting-edge materials and technical construction. High-quality office spaces were also created alongside the warehouse facilities. From the very beginning, the project investors were open to implementing flexible and customized technical solutions. This has benefited the current tenants, as they also engage in not only logistics but also commercial and assembly activities, requiring developments beyond the essential technical specifications.
Systems to support green solutions for sustainability – electric charging stations and a heat pump system responsible for cooling and heating – have been implemented. The installation of solar panels and the building's certification are still in progress, and the industrial park will soon achieve a BREEAM In-Use 'Very Good' rating.
"What makes Faedra22 special is not only its location within the city, but also in the fact that the industrial building, which has been designed with tenant-specific technical and area extension needs in mind, allows not only logistics but also light industrial operations. Furthermore, high-quality office spaces are part of the logistics units. This complex service was attractive to our clients even in the current challenging market situation, and the entire building was successfully leased in a short period of time. In the leasing negotiations the 108 Agency was our professional partner," said Bence Boronkay, CEO of Faedra Group.

Faedra Group