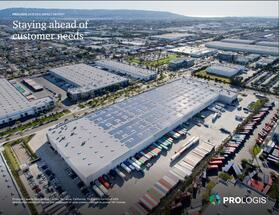 "I know our long-standing commitment to ESG is a competitive differentiator that helps us better serve our customers, deliver value to our business and stay ahead of the competition," said Prologis chairman and CEO Hamid R. Moghadam. "Taking the long view, we have built a portfolio of strategically located assets that meet our customers' needs and help to solve their pain points around location, energy and labor."
2018: A year of firsts
2018 was a year of sustainability milestones for Prologis—including being named the top U.S. company and sixth overall on the Corporate Knights Global 100 Most Sustainable Corporations in the World list, which was announced this January in Davos, and being the first logistics real estate company to issue green bonds.
Here are more 2018 Prologis firsts, which are described in greater detail in the report:
-First logistics company to receive an approved Science Based Target (SBT);
- First to launch a workforce initiative (the Community Workforce Initiative, or CWI);
- First logistics real estate company to achieve WELL certification through the International WELL Building Institute (IWBI);
- First to receive the Gold-Level Green Lease Leader award.
ESG: An important driver of value across global portfolio
As the global leader in logistics real estate, Prologis knows that ESG not only benefits the company's communities and the environment, it also creates value for customers, investors and other stakeholders and, in turn, helps grow the business.
Growth
At Prologis, growth in brand value, customer loyalty and satisfaction, investor confidence as well as employee and community relationships, are key aspects of the company's long-term business strategy.
Productivity
What it means: Cost savings and value preservation through modern, efficient building design—how Prologis stays ahead of its customers' needs.
Resilience
What it means: Smart governance of financial, operational and reputational risk, as well as building trust among stakeholders.
Read more
The new ESG Impact Report effectively tells Prologis' evolving ESG story, including details about how the company measures progress toward specific goals, and examples of what it has done—and continues to do—to produce results across its global portfolio.
Prologis