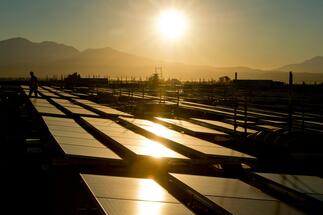 Not only have we set a standard for building sustainable logistics real estate across the globe, but also on how to be an exemplary corporate leader. One way to measure this, is through industry recognition and peer acknowledgement.
Over the years Prologis has widely been recognized for its sustainability achievements. To continue to do so shows the commitment with which we strive for continued ESG excellence.
For the seventh year running, the National Association of Real Estate Investment Trusts (NAREIT) has named Prologis as its "2018 Industrial Leader in the Light", for superior portfolio-wide ESG practices and energy use practices – the highest sustainability recognition in the REIT industry.
The reasons behind the NAREIT nomination, encompass all five of our sustainability objectives, and include:
- Our capacity to generate 175 megawatts of solar energy, the thirdlargest generator in the U.S. (behind Walmart and Target)
- Our 304 sustainable building certifications across the globe
- Achieving our corporate GHG reduction goal, four years ahead of schedule
- Exceptional corporate charitable volunteerism and giving
- The launch of our Community Workforce Initiative, helping our customers address labor needs
Sustainable development is common sense. Setting greenhouse gas emission (GHG) reduction targets, in line with climate science is therefore a great way to future-proof growth. In November an important milestone was reached when Prologis received approval for its Science-Based Targets (SBTs) to reduce GHG emissions, making it the first logistics REIT to have approved SBTs.
Led by the Science Based Targets Initiative (SBTi), SBTs are an internationally recognized approach for helping companies create science-based goals for reducing GHG emissions. SBTs guide companies, like Prologis in making quantifiable progress toward reducing their GHG emissions. Company target alignment and approval underscores our industry-leading sustainability performance.
Our Prologis' SBT goal states: "Prologis commits to reduce absolute scope 1 and 2 GHG emissions 21 percent by 2025 and 56 percent by 2040 from a 2016 base-year. Prologis also commits to reduce absolute scope 3 GHG emissions 15 percent by 2025 and 40 percent by 2040 from a 2016 base-year."
Last but certainly not least, Prologis' sustainability efforts were also picked up by Corporate Secretary Magazine and shortlisted for their 11th annual 2018 Corporate Governance Awards in the category of "Best ESG Reporting", on 8 November. This prestigious nomination celebrates the high quality and robustness of our reporting related to ESG objectives.
Although Microsoft took first-place, our nomination marks a significant achievement given the notable competition and considering that we were the only real estate industry nominee across 15 award categories. Nomination is a major nod toward the company's strong focus on corporate governance.
Congratulations, to all of those who have spearheaded the work recognized by these important achievements.
Prologis