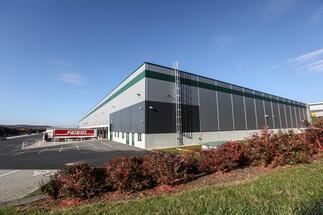 The transactions include the following:
•    17,500 square metre renewal of distribution and office space in Building 2
•    2,950 square metre expansion of distribution space in Building 3, bringing Sony DADC's total leased space to 38,500 square metres

"Location played a key role in our decision to remain at Prologis Park Pilsen-Štěnovice as we continue to expand our operations," said Werner Gangl, Managing Director, Sony DADC Czech Republic. "We are also especially appreciative of the property management services provided by Prologis, which has allowed us to focus solely on the growth of our business."

"As the CEE region establishes itself as a major player in electronics and technology sector, we continue to see the expansion of existing brands already present in the market, which in turn requires additional space for logistics operations," said Martin Baláž, director, leasing and development, Prologis Czech Republic and Slovakia. "Prologis' priority is to support our customers' business endeavours by providing best in-class services and facilities."

Located two kilometres from the city of Pilsen, Prologis Park Pilsen-Štěnovice comprises three buildings totalling more than 58,500 square metres of modern logistics and distribution space and offers convenient access to national and international trade routes via the D5 motorway.

Prologis is one of the leading providers of distribution facilities in the Czech Republic with more than 985,000 square metres of logistics and industrial space (as of June 30, 2016).


 ProLogis