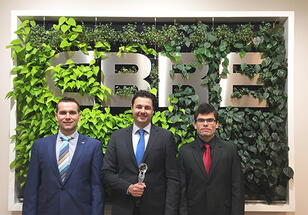 In the first half of 2016 the industrial agency team of CBRE was involved in 78% of all commercial transactions in Budapest, which is a record in the past few years in the Hungarian commercial real estate market. In 2016, the CBRE team had a significant involvement also outside of the Budapest region, in the selling and leasing of industrial properties in Tatabánya, Dunakeszi and Szigetszentmiklós.
"The growth of industrial production and of the logistics services has resulted in more and more new transactions in the Hungarian commercial real estate market. After the CBRE Industrial Agency contributed to new significant pre-lease and rental contracts and in the extension of existing contracts, in several cases property owners decided to further developments – thus, we believe that we have earned the prestigious CIJ Award this year", Gergely Baka, Head of the CBRE Industrial Agency said.
The CIJ Awards
The Construction and Investment Journal (CIJ) Europe founded the "CIJ Awards" in 2000, which is presented annually to the best actor in the property market and to the best property market project in various categories. Entries are shortlisted by a jury of acknowledged property market experts, and the winners of the categories are chosen in an open voting.
CBRE