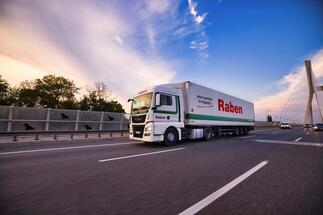 The acquisition of Austrian Bexity and entering the fifteenth European market, investments in the fleet and infrastructure in many countries, dozens of new international connections plus ambitious sustainability projects - there is no doubt that the logistics operator is still on a growth path and nothing can stop it.
Over the past year, the challenges threatening the global economy have not disappeared - only their nature has changed. The difficulties resulting from the COVID-19 pandemic have been replaced by a scarcity of raw materials, record price increases and raging inflation, which has affected virtually everyone - consumers, service providers and manufacturers from all industries. In addition, the TFL industry has been facing a driver shortage for quite a long time. Above all, however, Europe was faced with a great human tragedy caused by the war in Ukraine, which shook the world in many different ways.
- It was undoubtedly a very good year for Raben Group. Austria joined us in the first quarter and now the Raben family has more than 11,000 people in 15 countries. This is a very satisfying growth - not only in terms of increasing the reach of our operations, but also in terms of developing and improving our services. It was possible thanks to our customers, business partners, suppliers and our team of People with Drive - they all contributed to this success. At the same time, just across our border, we are witnessing a situation that should not be happening in free Europe, and yet it has become a reality. Ukraine is part of our business, and we are trying to support our employees by getting involved in various aid initiatives - said Ewald Raben, CEO of Raben Group. – In these difficult times, as a company we care not only about the people, but also about the environment. That is why last year we implemented various sustainability projects with future generations in mind, often engaging our customers. We believe that together we can do more.
In 2022, the structure of the sectors served by Raben Group was virtually unchanged and included food (26%), automotive (20%), technology (19%), chemicals (16%), trade (11%) and non-food FMCG (8%). The range of offered services was also similar to the year before: road transport dominated (65%), followed by contract logistics (11%), FTL & Intermodal (9%), Fresh Logistics (6%), sea & air (3%), 4PL (3%) and other. Despite numerous challenges, the logistics operator recorded revenue exceeding 2 billion EUR.
- Just when we had learned how to function in the pandemic, the war broke out in Ukraine and, in addition, we all have had to contend with high fuel and, more recently, gas and electricity prices. Electricity and gas costs together account for 21 – 23% of the cost of warehousing. Our business is also heavily complicated and has been made more expensive by the need to comply with the provisions of the Mobility Package - says Csaba Árvai, Managing Director of Raben Trans European Hungary Kft. – Being able to adapt to the current economic and geopolitical instability is one of the biggest challenges facing all companies, not only those in the TFL industry. The last two years, in particular, have shown that the needs of our customers, and therefore the world of logistics, have been changing dynamically. The speed of response in emergency situations, the partnership with customers and the flexibility of all links in the logistics chain have become a test of business efficiency – he adds.
Raben in Europe
The main event of the past year was the further expansion of Raben Group. In February 2022, the acquisition of 100% of the shares of Austrian company Bexity from its previous owner, Mutares Holding, was finalised. As a result, Raben has depots already in 15 markets and has added more than 500 employees and 16 locations to its European family. Raben and Bexity have been partners for more than 10 years, and the two companies also share a 'green' approach to logistics - many of the Austrian company's terminals offer direct rail connections.
A new depot has already appeared in the new market: in Inzersdorf in south Vienna, the operator has 17,000 m2 of warehouse capacity and 900 m2 of office space, more than 90 loading ramps, four rail ramps and a 200-metre railway siding. As a result, it is able to meet the requirements of a wide range of industries while ensuring sustainable transport.
Developments continue in Hungary
Less than 100 km further to the east, but already on the other side of the border, another facility was erected. In Győr, Hungary, in March 2022, a warehouse was opened with 3,000 m2 of capacity (expandable) and several types of ramps adapted to a variety of vehicles. A month later, construction of the cross-dock warehouse in Dunaharaszti on the outskirts of Budapest began. Nearly 40 ramps, including multi-functional ones, and an expansion of capacity by approximately 75% compared to the existing space allows for greater flexibility and better service for growing order volumes.
In terms of the number of investments, the real record-holder is the country where Raben's history began. In the Netherlands, a warehouse in Etten-Leur (25,000 m2, 38,574 pallet places) and a new depot in Hazerswoude-Dorp (1,250 m2 of cross-dock area) were commissioned last year, and in addition, construction of a new warehouse facility was started (capacity of 13,000 m2). This is a huge source of pride for the entire Group - the first zero-emission warehouse on 15 markets, which will be completed in March 2023.
The Estonian company, on the other hand, has held the IFS Logistics 2.3 service provider certification for the transport of temperature-controlled food products since the middle of last year. Thanks to this, Raben Eesti OÜ has gained the opportunity to expand not only its existing services, but also its customers' portfolio.
It is also worth mentioning the solutions introduced in the company to at least partially offset the difficulties associated with the shortage of workers in the TFL industry. Raben Group has been consistently investing in Robotic Process Automation (RPA) - by 2022 robots carried out over 140 processes in the company. This solution relieves employees of monotonous, repetitive tasks and allows them to use their potential for more developmental projects.
In parallel with the development of infrastructure, Raben Group continued its extensive project to expand and reorganise its connections on the Old Continent. This endeavour was launched in 2018 in Germany and entered a key phase in 2021 with the inclusion of nine countries of Central and Eastern Europe and the Baltic coast. Reacting to the economic situation and the needs of customers, but also taking into account its acquisitions and investments, the operator integrates the distribution networks of the acquired companies into its own system and additionally launches new lines. By the end of 2022, Raben already had more than 600 international connections within Europe, including nearly 180 so-called groupage linehauls running between Bulgaria, Romania, Hungary, Slovakia, Czechia, Poland, Lithuania, Latvia and Estonia. It is worth mentioning that in the last 12 months alone, the Group launched more than 40 new routes in this extremely important European region for the Group. This result was made possible also by opening the smallest branches in each country to direct international volume exchange.
- CEE is becoming the strongest area and has overtaken the hitherto prioritised traffic between Poland and Germany, which, despite the first signs of the crisis, managed to close with an almost 10% increase in transported volume. And this is all thanks to nearly 130 daily groupage connections, which we have been constantly monitoring and responding to changing volume flows. - summarises Łukasz Lubanski, Group business development director - Most importantly, however, in the second half of last year we started significant infrastructure investments in Czechia and Germany, which in the coming quarters of the new year are expected to have a profound impact on the company's development and ability to handle exports and imports from Germany to countries like Italy, Austria, Greece, Czechia, Slovakia, Hungary, Romania and Bulgaria. It is a response to market and customers expectations in the changing economic climate and a shift in global logistics chains.
By investing in new connections, Raben will reach more places in Europe directly and, most importantly, not only the big ones but also smaller economic centres.
Raben in Germany
The past twelve months in Germany were marked by the further development of Germany's own groupage network, the establishment of new international lines in Europe to tighten the Group's system of connections and the development of infrastructure. In March, construction of a new depot in Herborn, Hesse, stared, which replaced the previous location in nearby Haiger and provided jobs for its staff - a total of 60 people. The logistics centre, which has a total area of 28,360 m2 (including 5,600 m2 of cross-dock area) was commissioned in January 2023.
In Lower Saxony, on the other hand, Raben relocated its depot from Langenhagen to Sarstedt, where a facility with a total area of 35,800 m2 and with 40,000 pallet places was developed, which means a more than tenfold increase in logistics capacity at the new location. The logistics centre offers increased handling capacity for consumers, automotive and chemical goods, as well as ample storage space for contract logistics customers.
Further investments are already underway to improve the international flow of goods within the Raben network.
Raben in Poland
Last year, another point appeared on the Raben map of Poland. This time, the operator opened a depot in Warsaw. In November, Raben Logistics Polska's 7,500 m2 cross-dock warehouse was opened there, equipped with 71 loading ramps and innovative solutions supporting energy efficiency, low emissions and work efficiency (e.g. skylights providing access to daylight, LED lighting controlled by motion sensors, forklifts with Li-lon batteries). Around 250 people found employment in the new depot. It is not only a location for cross-dock operations, but also an international platform – the strating point for trucks with shipments to the Baltic countries and Finland.
Another investment was completed in Grodzisk Mazowiecki in the last quarter of 2022, where a temperature-controlled warehouse was built under the Fresh Logistics brand. As a result of the expansion, the logistics centre has 18,564 m2 of warehouse capacity (3,340 m2 of cross-dock and 15,224 m2 of high-bay warehouse), with the possibility of storing almost 23,000 pallets at temperatures from 0 to +2 °C (Ultra Fresh zone) and from +2 to +6 °C. The warehouse uses a state-of-the-art, environmentally friendly ammonia-based refrigeration system, which simultaneously allows for heating up to 15 °C, lithium-ion forklift trucks and self-supporting loading docks (so-called dock houses).
Sustainability and investment
In terms of sustainability in 2022, Raben Group acted in line with the strategy set a year earlier, taking into account environmental, social and governance (ESG) issues. The company joined the international Science Based Target (SBTi) initiative and set more ambitious decarbonisation targets, which were then reviewed. Raben Group's new targets are to reduce Scope 1 (operator's own fleet) and Scope 2 (maintenance of buildings and warehouse infrastructure) emissions by 38.7% by 2030 compared to 2020 emissions. In addition, the operator has committed to engaging regular carriers, collectively responsible for 77% of Scope 3 emissions, in climate action by 2026 and encouraging them to set their own reduction targets in line with scientific knowledge.
Implementing climate-friendly solutions in existing facilities and building new facilities to meet low-carbon objectives have helped to meet Scope 2 objectives. The improvement in Scope 1 has been supported by investment in the fleet that meet Euro VI standards. In the field of fleet decarbonisation, Raben Group has taken another important step in its collaboration with Volvo Trucks and IKEA Industry by using zero-emission electric trucks in the customer's transport system. The first electric truck went on the road last autumn as part of the pilot phase of the project. The Volvo FM vehicle handles internal goods flows over a distance of 12 km between the IKEA Industry factories in Zbąszynek and Babimość, where it is charged with energy from a renewable external source. More electrical solutions are in the pipeline.
In Czechia, the construction of an oasis for white storks near Dvůr Králové nad Labem officially started at the beginning of October 2022 - this project won the eco-vote on the occasion of Raben Group's 90th anniversary in 2021. After obtaining all the necessary permits, the local company organised the first volunteer day, during which Raben Logistics Czech employees and the local community cleared part of the area of reeds and other biomass and prepared the site for the restoration of the ponds.
Raben Group traditionally remembered about the people in need. The Christmas Convoy went on the road once again in December. 45 trucks picked up 132,606 presents from Raben's 13 depots in Germany, which were then delivered to children in Bulgaria, Moldova, Romania, Poland and Ukraine.
In Poland, Raben, as a logistics partner, provided support to the Noble Gift for the fourth time during the Weekend of Miracles, when organised aid went to those most in need in the run-up to Christmas. In addition, in June it became involved in a special edition of the project, the Solidarity Gift dedicated to families from Ukraine. As a part of the assistance, the operator made its vehicles, drivers and logistics specialists available and drew on its experience of transporting shipments.
Raben Group