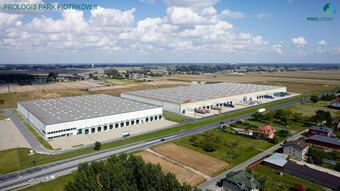 Agata is one of the leading and longest-operating Polish distributors of furniture, interior furnishings, decorative items, lamps and textiles. It currently operates 19 large retail outlets in all major Polish cities and two central warehouses.

"Our desire to optimise our operational costs and processes, resulting from the dynamic growth of our company, has led us to establish a single national distribution centre in Central Poland, located at Prologis Park Piotrków II," said Grzegorz Ćwik, vice president, Agata. "We selected Prologis' offer because we decided to entrust this important part of our business to a proven and reliable partner. This agreement strengthens our positive co-operation, which dates back to 2010 when we signed our first lease agreement for distribution space at Prologis Park Wrocław."

"We are pleased that Agata has chosen Prologis Park Piotrków II as its location in Central Poland. According to the Logistics Real Estate Network Expansion report that we developed with Eyefortransport, Central Poland is the most popular logistics destination in Central and Eastern Europe," said Paweł Sapek, senior vice president and country manager, Prologis Poland. "The agreement confirms our expertise and our successful cooperation with Agata. Furthermore, we are able to offer attractively located land with all the necessary building permits. As a result, we can provide our customer with a build-to-suit facility in the shortest time possible."

"The location of Piotrkow Trybunalski and the customized solution for the tenant were critical to choosing Prologis as a partner for this project. We congratulate both partners for this transaction and are proud that we were able contribute to it," says Małgorzata Czepel, Industrial & Logistics Department, CBRE.

Prologis Park Piotrków II currently comprises a single 17,500 square metre building. It is located on the outskirts of Piotrków, 40 kilometres from Łódź, the capital of the Central Poland region. The park is located at the intersection of two main transport routes: the A1/E75 motorway, linking northern and southern Poland, and the 8/E67 express road, linking Prague, the Silesian agglomeration and Warsaw with Białystok and Vilnius.

With its active engagement in four CEE countries and a portfolio totalling 4.3 million square metres, Prologis is the leading provider of distribution facilities in Central and Eastern Europe (as of March 31, 2016).
Red Lemon Media