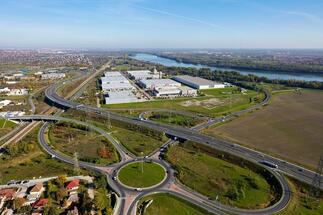 Prologis ended the second quarter with 94.8 percent occupancy of the company's operating portfolio, confirming the stabilisation of the market and strengthening of Prologis' position in CEE. 
At the end of the quarter, the company's operating portfolio was 4.35 million square metres. Adding developments, the portfolio was 4.52 million square metres. 

Notable transactions included:
New leases (Q2 2016)
SpaceCustomerLocation
34,200 sq mSportisimo Prologis Park Prague-Rudna, Czech Republic
20,500 sq mMall.czPrologis Park Prague-Jirny, Czech Republic
17,200 sq mGrupa Allegro Prologis Park Błonie, Poland
12,000 sq mFood ProducerPrologis Park Wrocław, Poland


Renewals (Q2 2016)
20,800 sq mFiege Prologis Park Budapest-Harbor, Hungary 
12,800 sq mYusen LogisticsPrologis Park Wrocław IV, Poland
11,700 sq mOST SPEDPrologis Park Wrocław, Poland
11,100 sq mRaben Logistics Prologis Park Nowe Mesto, Slovakia 
Developments Starts
During the quarter, Prologis commenced construction of four distribution facilities, totalling more than 123,000 square metres, three of which are build-to-suit (BTS) facilities. The fourth one is a speculative facility, totalling 21,000 square metres, which is already 23 percent pre-leased. Including development starts in the first quarter, the company currently has nine buildings under construction, totalling 217,000 square metres. The majority of the developments are in existing Prologis parks, located in core logistics markets. 
Development Starts (Q2 2016)
SpaceTypeLocation
34,200 sq mBTS for Sportisimo Prologis Park Prague-Rudna, Czech Republic
22,200 sq mBTS for a clothing company Prologis Park Stryków, Poland
21,000 sq mSpeculative — 23-percent pre-leasedPrologis Park Budapest-Sziget, Hungary
11,740 sq mBTS for a freight forwarderPrologis Park Stryków, Poland
"The second quarter of 2016 shows that the logistics real estate market in Central and Eastern Europe is growing steadily and offering encouraging prospects. There is a growing demand for logistics space and, consequently, the occupancy rate across our portfolio is on the increase, reaching nearly 95 percent," said Martin Polak, senior vice president and regional head for Prologis CEE. "The expected growth in e-commerce and the consequent increase in logistics space occupancy rates has become a reality. A growing number of our customers are companies from that sector, which speaks of the quality and suitable location of Prologis facilities."
With its active engagement in four CEE countries and a portfolio totalling 4.3 million square metres, Prologis is the leading provider of distribution facilities in Central and Eastern Europe (as of 30th June 2016).
Prologis