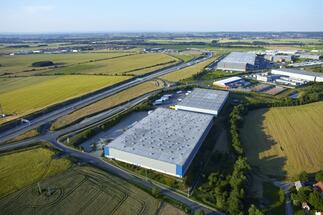 After signing an initial agreement for 7,600 square metres, EYELEVEL an InnerWorkings company, a retail solutions and marketing company, has decided to prolong and expand its existing lease, and will now occupy the entire facility.

"Our strategic move to the D1 zone in 2014 has proven very successful," said Miloš Edelmann EYELEVEL an InnerWorkings company, Operations Director. "The decision to occupy the rest of the park was based on our satisfaction with the facility, property management, as well as the excellent location."

"Not only is Prologis Park Prague D1 West II now fully let, but by a single one of our customers, which demonstrates the popularity of this particular location," said Pavlína Plašková, Prologis leasing manager for the Czech Republic. "We take this as great reassurance of our strategy throughout the region and Prologis' ability to further support our customers' business growth."

Prologis Park Prague D1 West II is located near Exit 10 of the D1 Highway, which is approximately 11 kilometres southeast of Prague, and is ideally positioned as a Central European distribution hub. The location is only 20 minutes from the international airport and connects Prague with the Brno region. It provides further access to Ostrava, Bratislava, and Vienna, and is a one-hour drive to Pilsen via the D5 highway.

With its active engagement in five CEE countries and a portfolio totalling more than 4.1 million square metres (as of 31 December 2014), Prologis is the leading owner and manager of distribution facilities in Central and Eastern Europe. 
Prologis