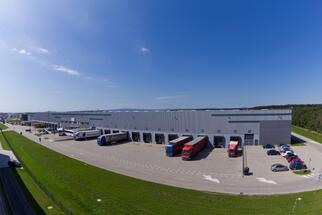 The 17,300 square metre high-quality distribution facility, DC10B, is scheduled for completion in the first quarter of 2016. The development is driven by strong demand in the Bratislava region and follows two additional speculative buildings, DC12 and DC13, which are already 50-percent pre-let. With the completion of a build-to-suit development, DC9, also currently under construction, the park will reach its build-out capacity. It will total 320,000 square metres and will be Prologis' largest park in the CEE region.

The pre-let agreements at Prologis Park Bratislava include:
•    7,000 square metres with Lagermax, a leading Austrian logistics and transport provider

•    6,400 square metres with Elektrosped, a Slovak online consumer goods and electronics retailer, operating e-shop Hej.sk and owned by the HP Tronic Group
"This has been a record year of new construction in the Senec area - the highest it has been since 2008 - and Prologis Park Bratislava continues to perform in terms of quality and location," said Martin Polák, senior vice president and country manager, Prologis Czech Republic and Slovakia. "Given the strong demand from our customers and Prologis' recent success with speculative developments, we decided to pursue the DC10B extension, which is 72-percent pre-let only weeks after its inception."

Prologis Park Bratislava is a state-of-the-art industrial parklocated 24 kilometres east of Bratislava's city centre, two kilometres from Senec and 16 kilometres from the international airport. It currently comprises more than 250,000 square metres of production and distribution space.

Prologis is the leading provider of distribution facilities in Slovakia, with more than 495,000 square metres of logistics and industrial space (as of September 30, 2015).
Prologis