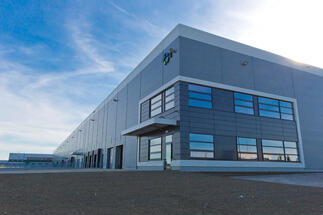 The opening was marked with a ceremony, called "Space to Grow Your Business", which summarises the advantages for customers of small business units, namely the ability to combine high-quality office and distribution space under a single roof within the Wrocław city limits. The ceremony was attended by representatives of local authorities, business partners, customers and invited guests.

"We are proud of this investment. Its opening marks also the completion of Prologis Park Wrocław III," said Ben Bannatyne, Prologis Managing Director for Central and Eastern Europe."Currently, Wrocław is one of the most sought-after locations with one of the lowest levels of available space in Poland but, with our own land bank at Prologis Park Wrocław V, we are able to answer the market's demand at any time."

"As little as six months after commencing construction works, we are delivering our first SBU building to our customers. It is already 75 percent leased and we are currently in negotiations to lease the remaining space.
It is a fantastic achievement and reinforces our business strategy for Wrocław," said Ewa Zawadzka, Prologis Head of Land & Development.

The SBU facility was designed by Jakub Jaszczyński of AMF Konstrukcje Budowlane; the general contractor was Goldbeck. 

Prologis Park Wrocław III currently comprises 148,000 square metres of space and is located next to the Wrocław Motorway Ring Road, on Graniczna Street, seven kilometres south east of Wrocław and 3.5 kilometres from the airport.

Customers of the SBU building include Active, Getback, Max Fliz, Metalcom, Neuca and Schumacher Packaging.

Prologis owns and manages a portfolio of approximately 3.7 million square metres of logistics and distribution space in Central & Eastern Europe (as of 30 June 2014). With four distribution parks offering more than 360,000 square metres, Prologis is the largest industrial facilitiesprovider in the Lower Silesia region.