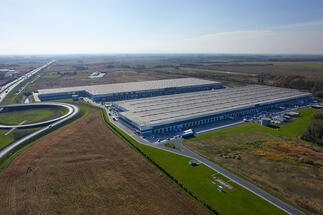 Leader Logistics, a new customer for Prologis, arranges full truck load, partial and groupage shipments with insurance and simplified customs clearance and is also a contracted logistics provider. Its customers include companies from the automotive, sanitary and food industries.
"Leader Logistics provides comprehensive logistics services at a class A high storage facility including domestic and international full truck load, partial and groupage shipments", said Małgorzata Moszczyńska, co owner of Leader Logistics.  Prologis Park Wrocław III's proximity to the airport and good transport infrastructure will ensure we continue to achieve our goals and is the reason we were attracted to this facility".

"We are delighted to welcome Leader Logistics, another unique logistics company, as one of our new customers. Lower Silesia is now becoming a specialist logistics hub due to the growing number of customers from this sector", said Magdalena Kostjan, Prologis Leasing Manager, Poland. "Its strengths lie not only in the excellent road infrastructure and availability of skilled labour, but also its proximity to other major logistics companies which attracts new customers".

Prologis Park Wrocław III comprises 148,000 square metres of space and is located next to the Wrocław Motorway Ring Road, on Graniczna Street, seven kilometres southeast of Wrocław and 3.5 kilometres from the airport.
Prologis owns and manages a portfolio of over 3.7 million square metres of logistic and distribution space in Central & Eastern Europe (as of 30 June 2014).


Prologis